Saguaro National Park is named for the Saguaro cactus, which grows only in the Sonoran Desert. This is an easy park to visit, with scenic drives and short walks among the towering cacti. A half day is all you need to see the highlights, but with more time you can tour the entire park, go on a day hike, or camp in the backcountry.
OVERVIEW OF SAGUARO NATIONAL PARK
The park is located in southern Arizona near Tucson. This park protects the Saguaro cactus on a tract of land through the Sonoran Desert.
There are two separate sections to the park.
The eastern section, also called the Rincon Mountain District, has a lower concentration of cacti. However, the Rincon Mountains form a nice backdrop for photography. This is also the only place to camp inside the park and it offers miles of backcountry trails, perfect for those who want to leave the crowds behind.
The western section, also called the Tucson Mountain District, has a denser population of cacti. This is the more popular section of the park so expect to share the trails and roads with more people here.
To get between these two sections of the park, it is a one hour drive through the city of Tucson.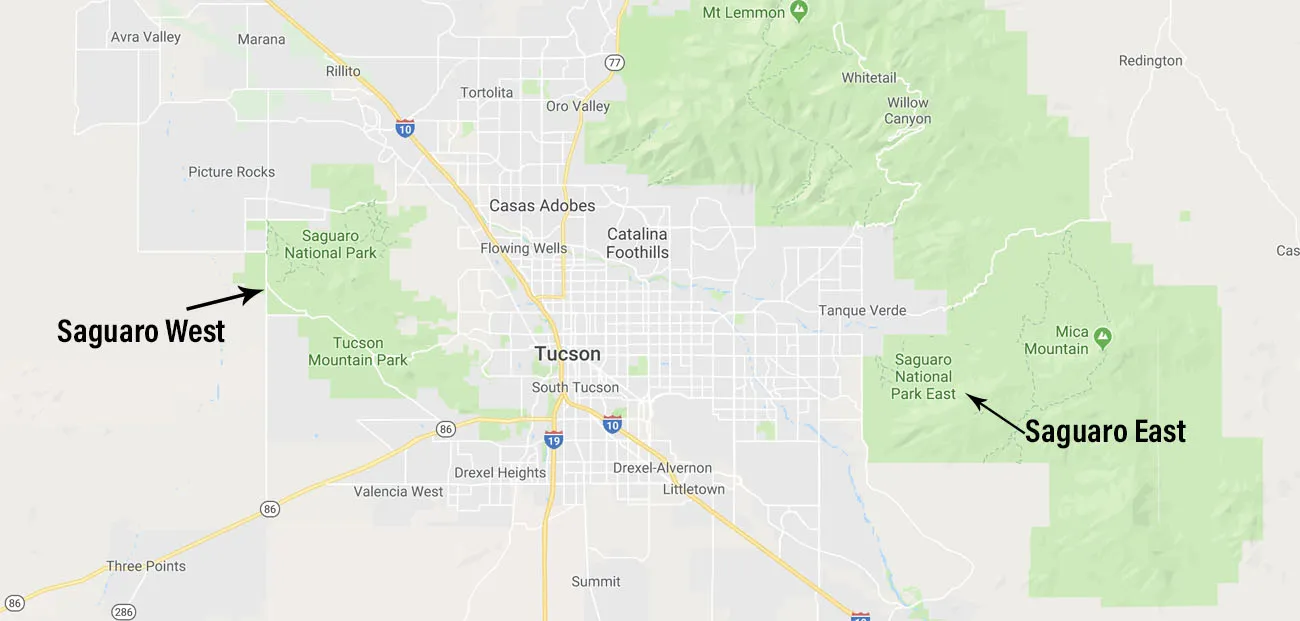 Saguaro National Park officially became a national park in 1994.
Many people mispronounce "Saguaro." We did too, before our visit. Saguaro is pronounced "sa-WAH-roh."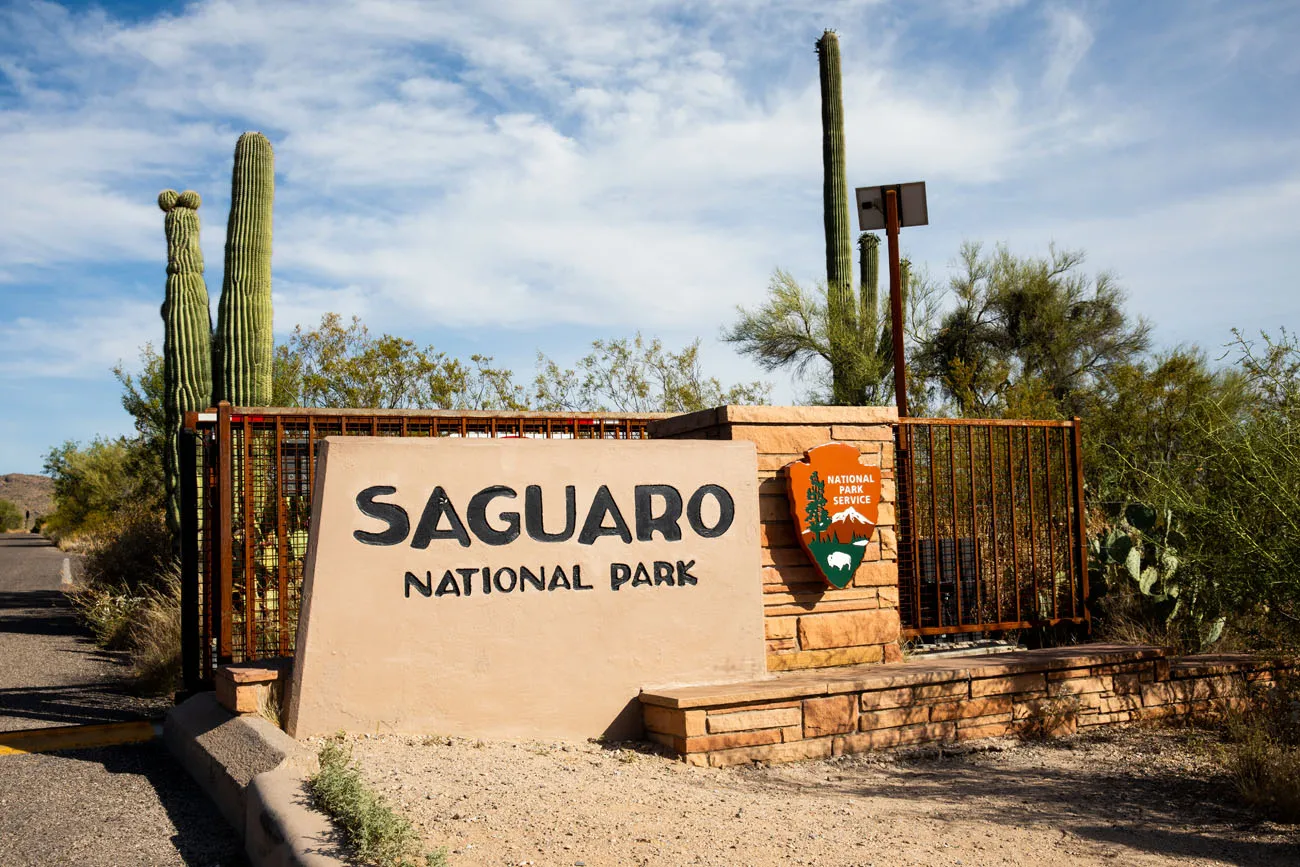 COOL FACTS ABOUT THE SAGUARO CACTUS
The Saguaro Cactus is the largest cactus in the United States.
Saguaros can live up to 200 years (although some sources state that they can live even longer than this). They grow at a very slow rate, only an inch per year. A 10 year old plant may only be 2 inches tall.
Many, but not all, of the Saguaros grow arms.
The Saguaro cactus flowers from mid-May through early June. During our visit on June 12, all of the cacti had already finished blooming.
The inside of the cactus is made of wooden ribs which resembles a tree trunk. Growing over these ribs is the green, fleshy skin that absorbs and stores water. The cacti absorb gallons and gallons of water in the summer monsoon season and use this stored water throughout the remainder of the year.
While in Saguaro National Park, please practice the seven principles of Leave No Trace: plan ahead, stay on the trail, pack out what you bring to the hiking trail, properly dispose of waste, leave areas as you found them, minimize campfire impacts, be considerate of other hikers, and do not approach or feed wildlife.
BEST THINGS TO DO IN SAGUARO NATIONAL PARK
Here are the best things to do in Saguaro National Park, organized by location.
How to Use This Map: Click the tab in the top left hand corner of the map to view the layers. You can click the check marks to hide or show layers. If you click the icons on the map, you can get more information about each point of interest.
If you click the star next to the title of the map, this map will be added to your Google Maps account. To view it on your phone or computer, open Google Maps, click the menu button, go to "Your Places," click Maps, and you will see this map on your list.
SAGUARO WEST (TUCSON MOUNTAIN DISTRICT)
THE BAJADA LOOP DRIVE
The Bajada Loop drive is a 6-mile graded dirt road. The road is well-maintained and is suitable for cars. We drove a Toyota Camry and had no issues on this road.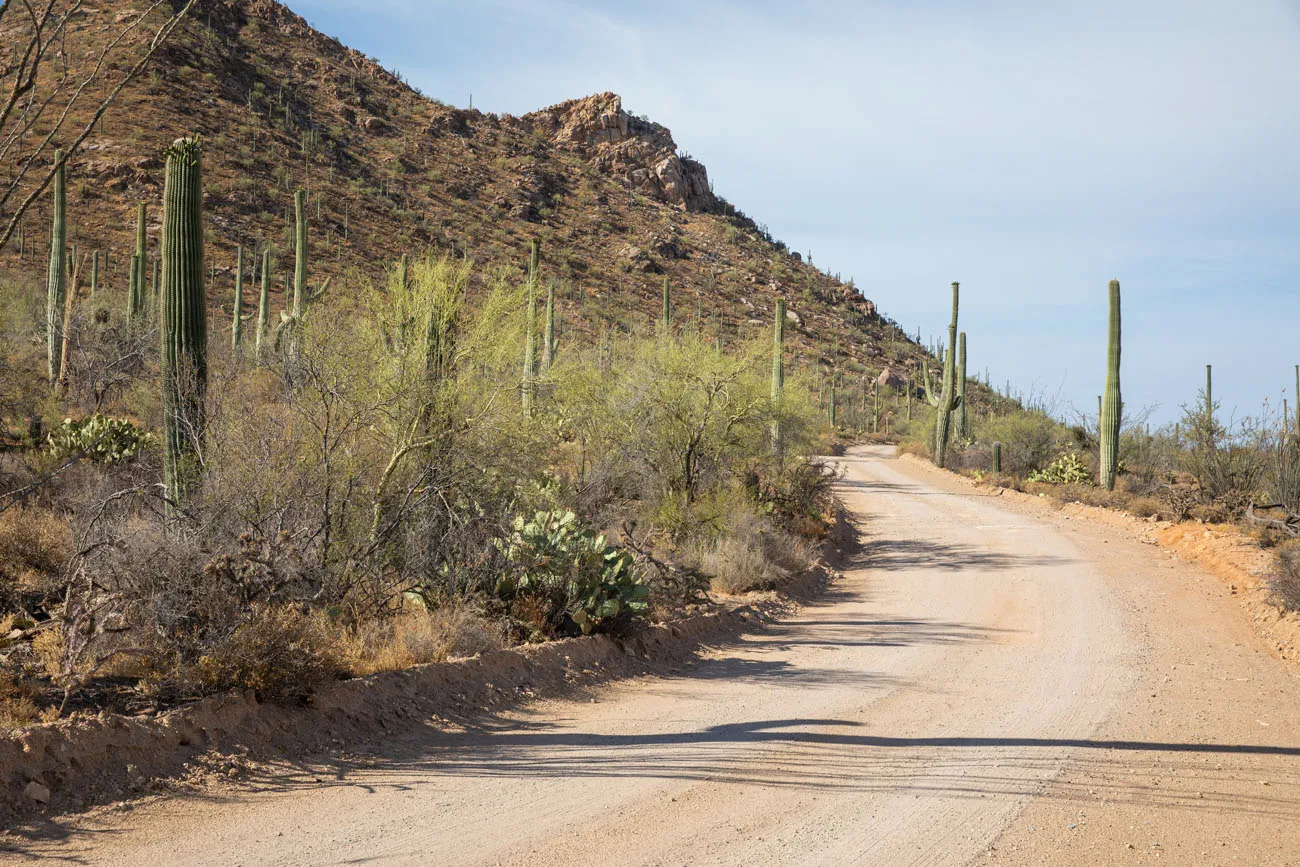 Two roads form the Bajada Loop Drive: Hohokam Road and Golden Gate Road.
There are several notable viewpoints along the way, which I will get to in just a minute. But first you need to know which way to drive the loop in order to avoid backtracking.
Part of the Bajada Loop Drive is one way only (the second half of Hohokam Road). In order to drive it as a loop, you need to drive counterclockwise.
To start the drive, turn right from N Kinney Road onto Hohokam Road. Hohokam Road ends at Golden Gate Road. To complete the loop, turn left onto Golden Gate Road and then drive until it ends at N Sandario Road.
Most of the road is wide enough for two cars to pass. The only place that is narrow is the second half of Hohokam Road, which is why it is one-way here.
IMPORTANT! Flash floods and rain can make this road impassable, even if you have a 4×4. If it has rained, or if rainfall is in the forecast, check conditions on the national park website or at the visitor center to see if the road is open.
VALLEY VIEW OVERLOOK TRAIL
Distance: 0.8 miles round trip
Location: Bajada Loop Drive, Hohokam Road
On this short, easy walking trail, get up close to the Saguaro cactus, prickly pears, and ironwood trees. Continue to the end of the trail for a great viewpoint of the park.
This was one of our favorite walks in the park since we walked through one of the densest populations of cacti. Plus, it's flat and easy and great for all ages.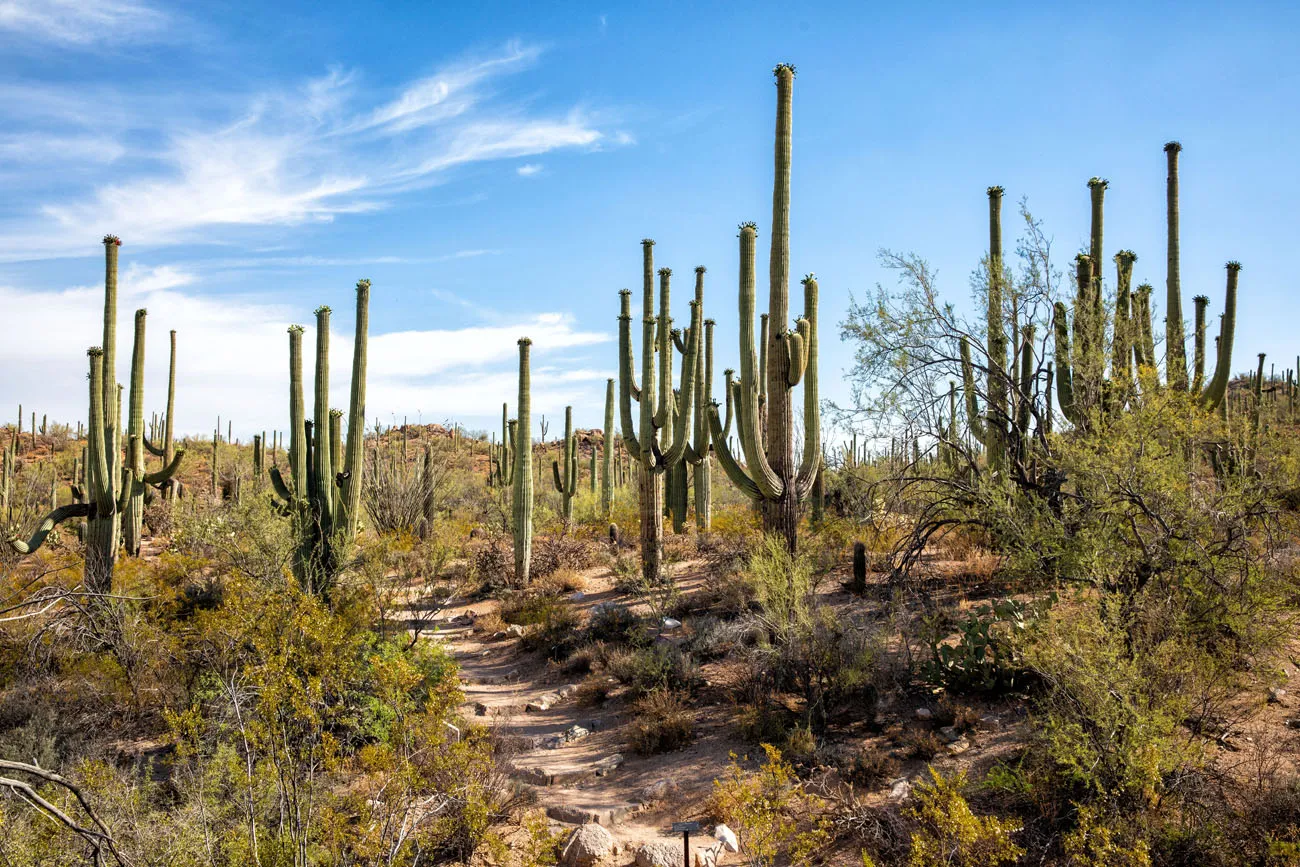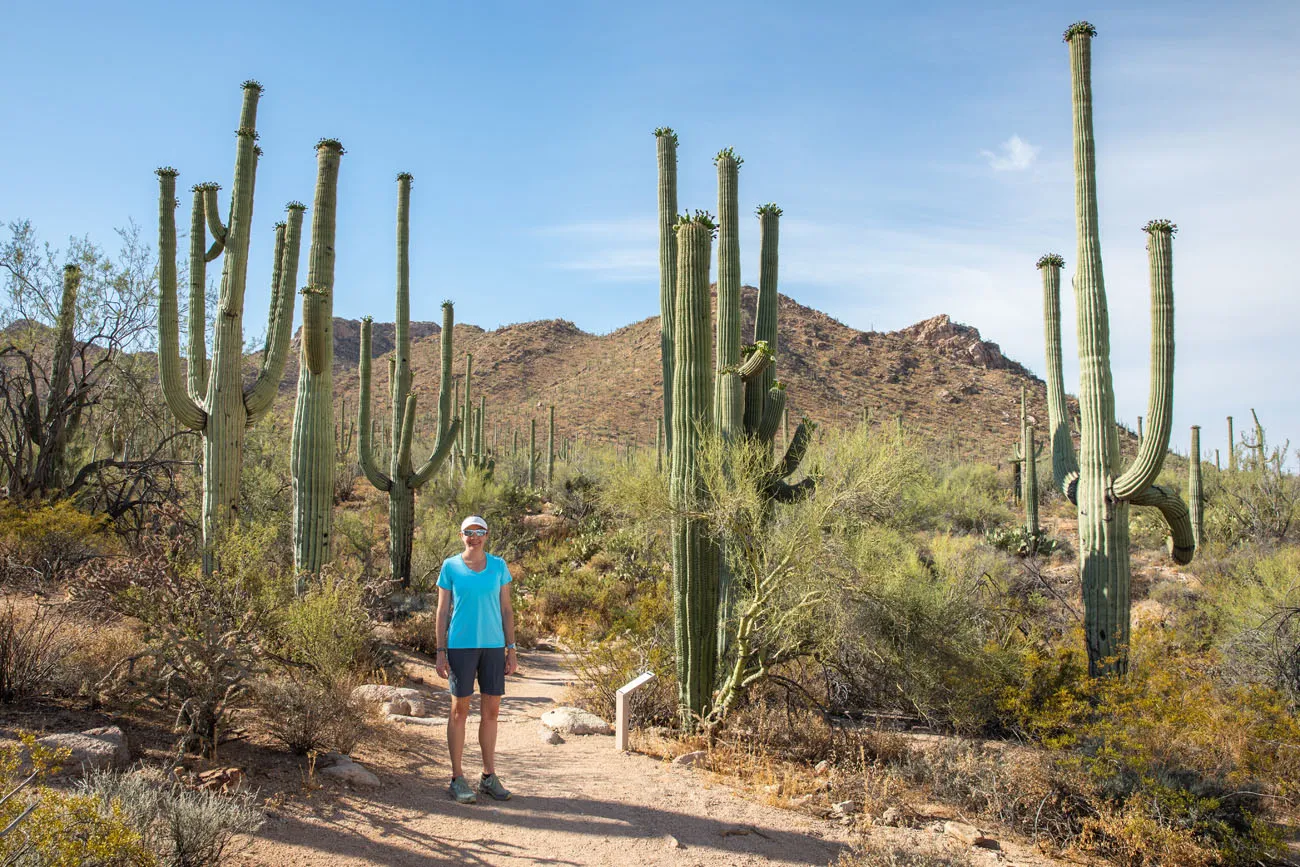 SIGNAL HILL PETROGLYPHS
Distance: 0.5 miles round trip
Location: Signal Hill Picnic Area on the Bajada Loop Drive
On this short trail you will walk uphill to a nice little viewpoint over the park.
Along the way, and on the rocks on top of the hill, you get to see the rock art, or petroglyphs, drawn by the Hohokam people over 800 years ago.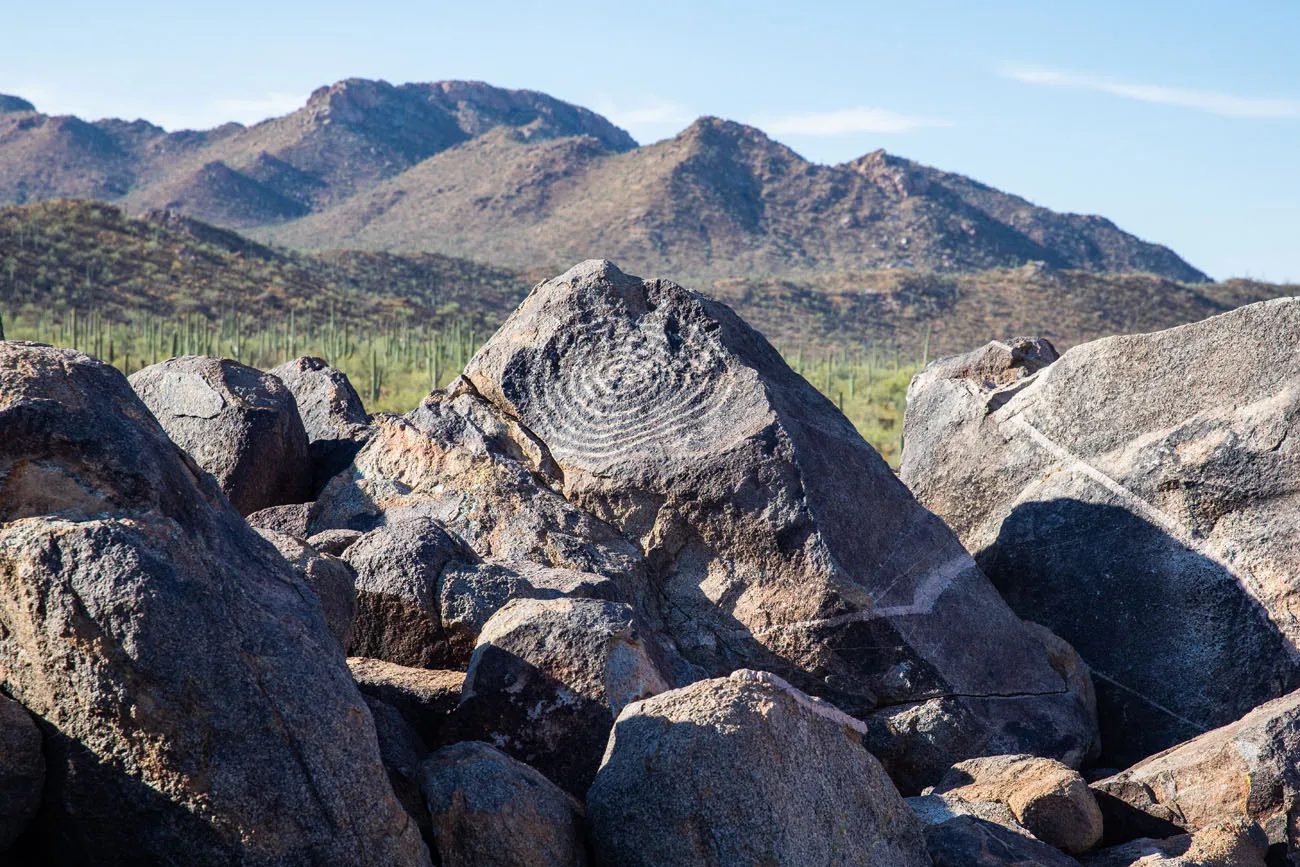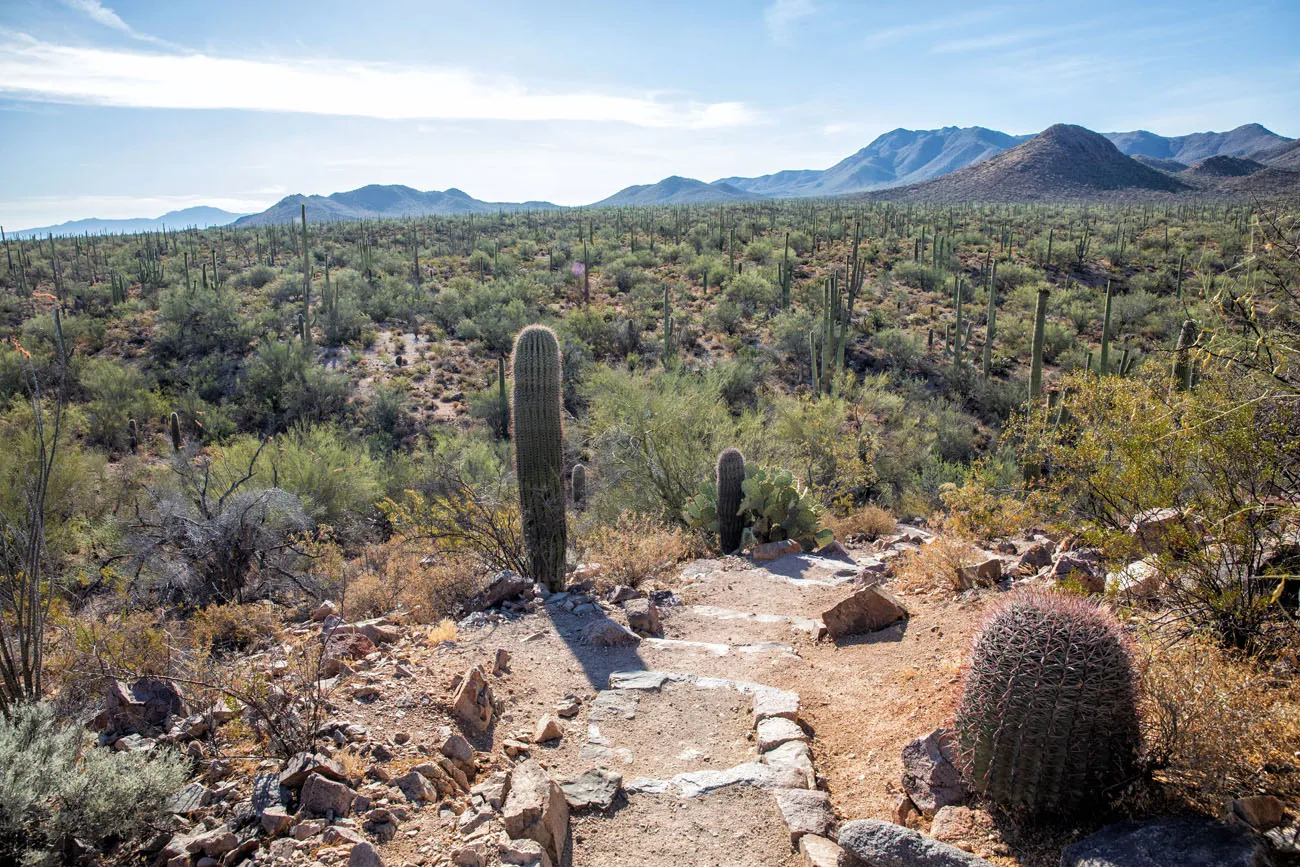 PRO TRAVEL TIP: Beware of rattlesnakes, gila monsters, and scorpions. Always look before you step and stay on the trail. Never put your hands or feet under rocks or in hidden places. We never saw a wild rattlesnake inside of the park, but one did slither across the sidewalk at the Arizona Sonora Desert Museum.
DESERT DISCOVERY NATURE TRAIL
Distance: 0.5 miles
Location: N Kinney Road
This is a self-guided nature trail, with lots of informative signs about the Saguaro cactus and the desert ecosystem. It's easy to walk, educational, and great for all ages.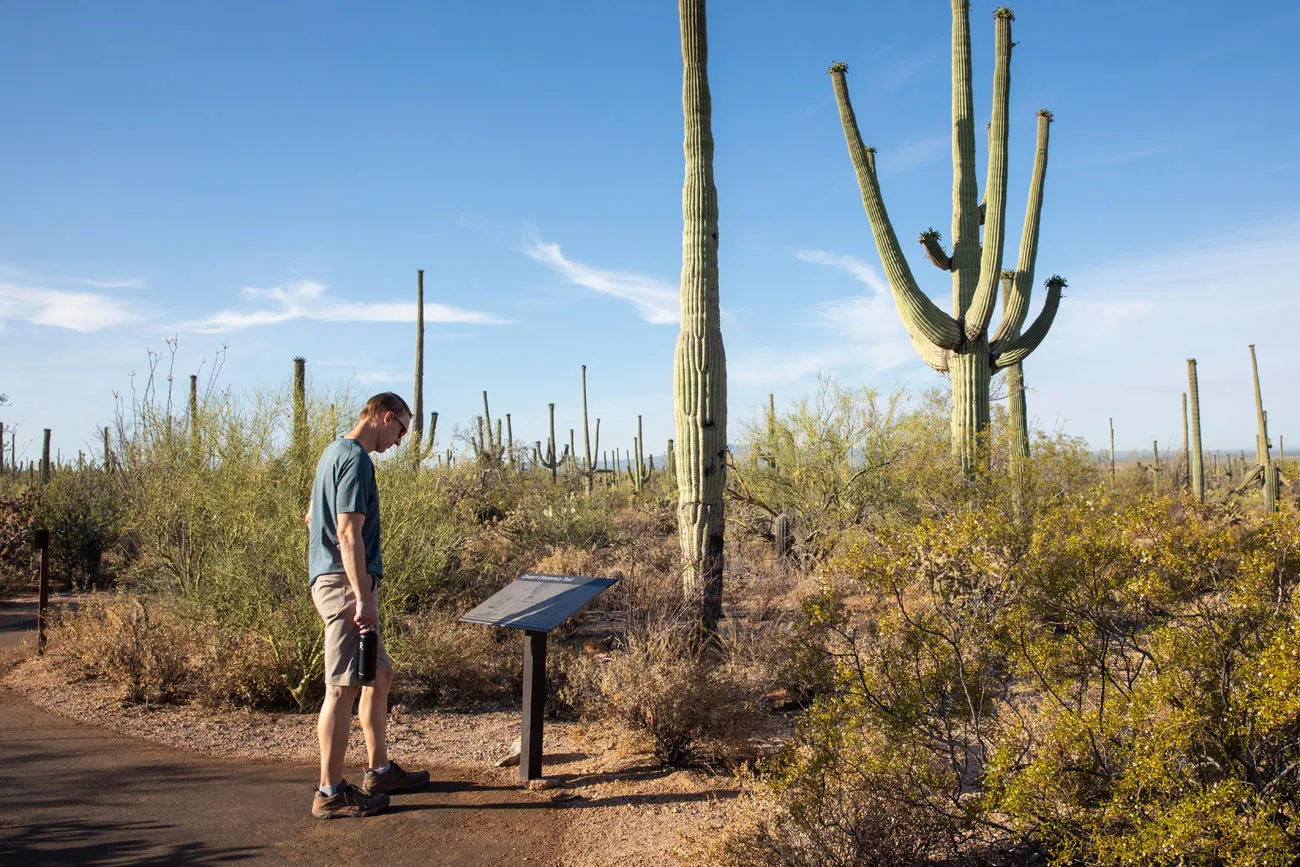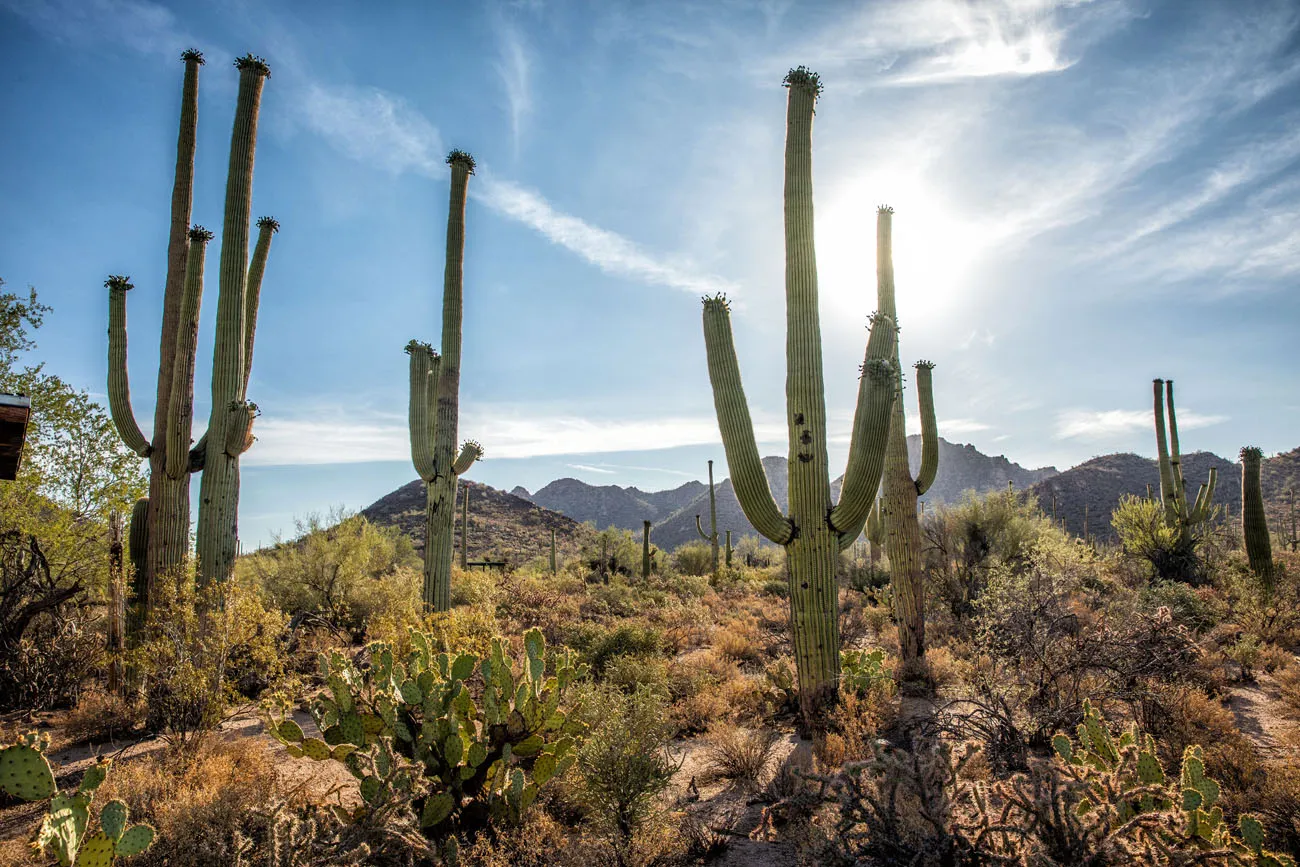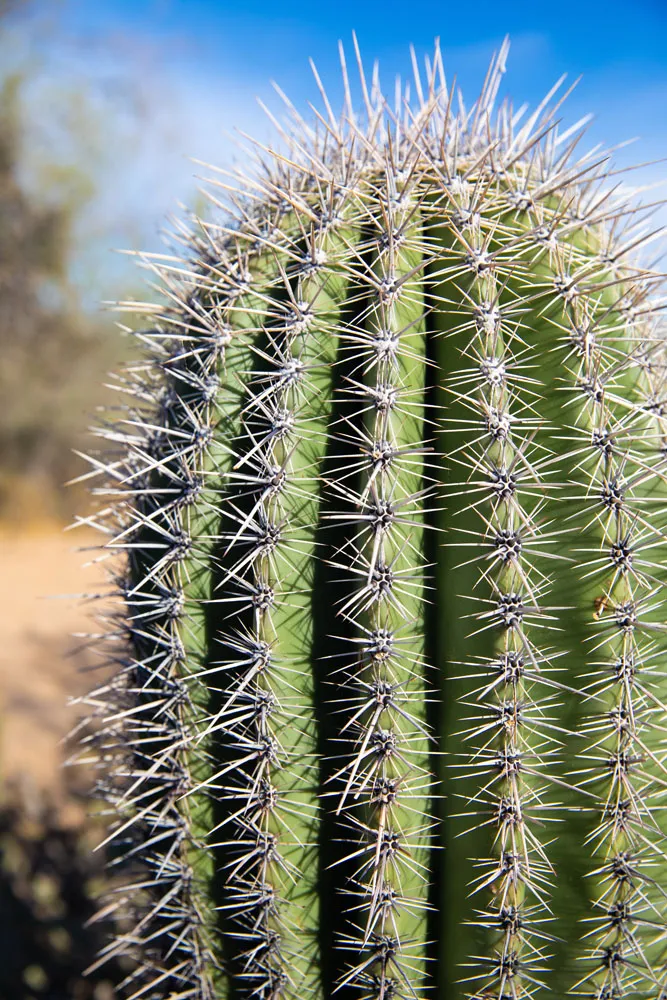 HIKE TO WASSEN PEAK
For a big adventure, hike to the top of Wassen Peak. It is roughly 8 miles round trip and is rated as strenuous, but you'll get one of the best views of the park.
This was high on our list do to but we skipped it due to high temperatures in the park.
There are several ways to get to the top of Wassen Peak. The way we planned to do it was to start on the Sendero Esperanza Trail. This trail intersects the Hugh Norris Trail. Turn left on the Hugh Norris Trail (head east) and take this to the top of Wassen Peak.
There are numerous other hiking trails in Saguaro National Park to choose from but this is the one that stood out the most to us. You can see the full list here.
ARIZONA SONORA DESERT MUSEUM
This is not part of the national park but if you want to learn more about the desert ecosystem, this is a great place to visit. This is more of a zoo than a museum, with animal exhibits, an aquarium, and botanical gardens, and it also has a natural history museum.
It would be very easy to spend at least half of a day here, to tour the entire property.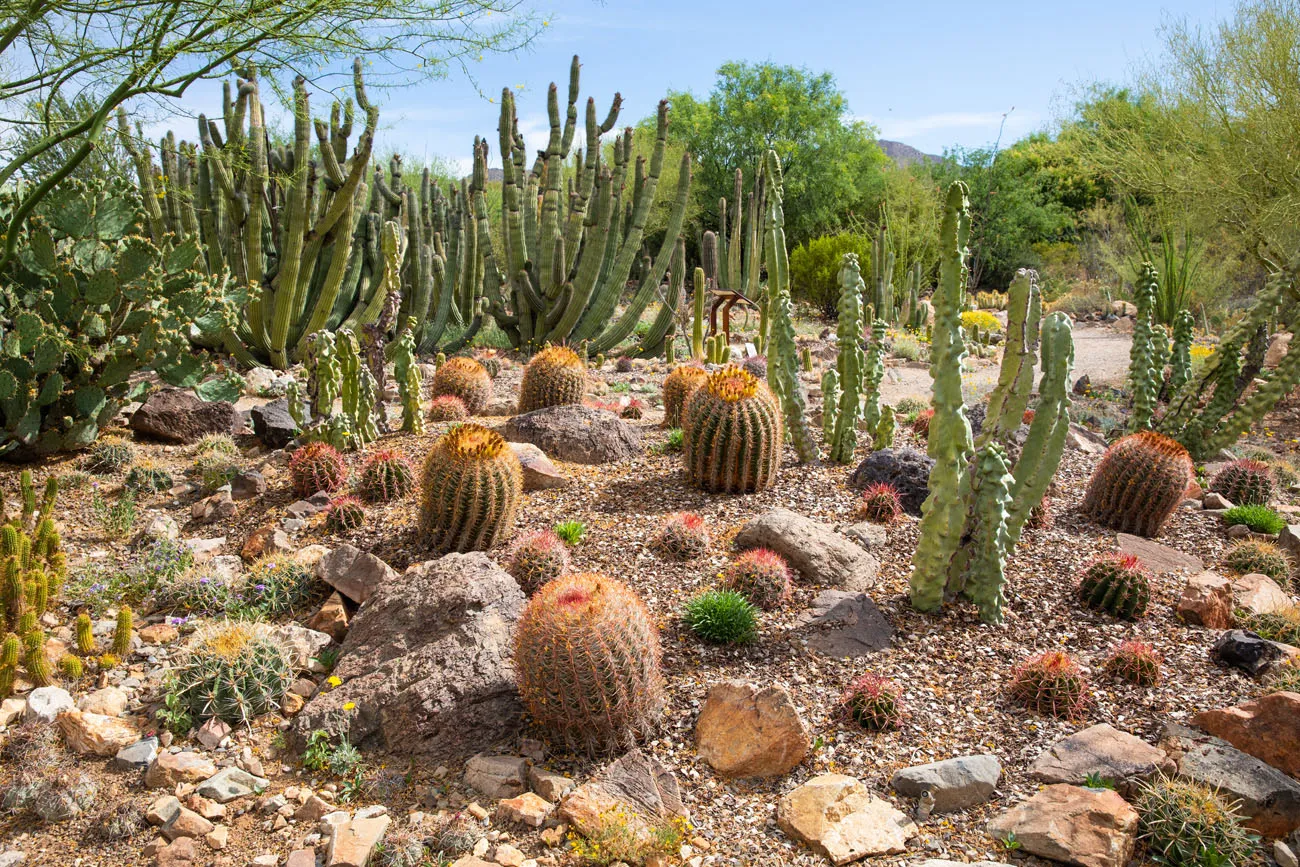 While walking through the museum, a wild rattlesnake slithered across the sidewalk right in front of me. You really have to watch where you step because if I hadn't been paying attention, I would have stepped right on this little guy. He slid off into the rocks and brush and I got one last photo before he disappeared.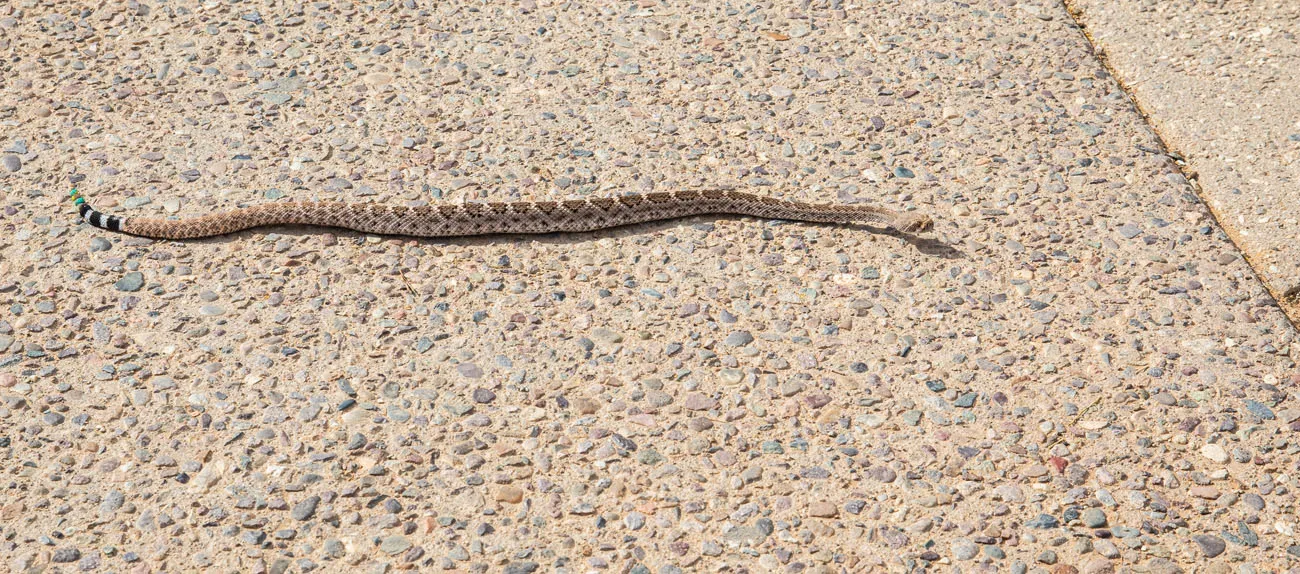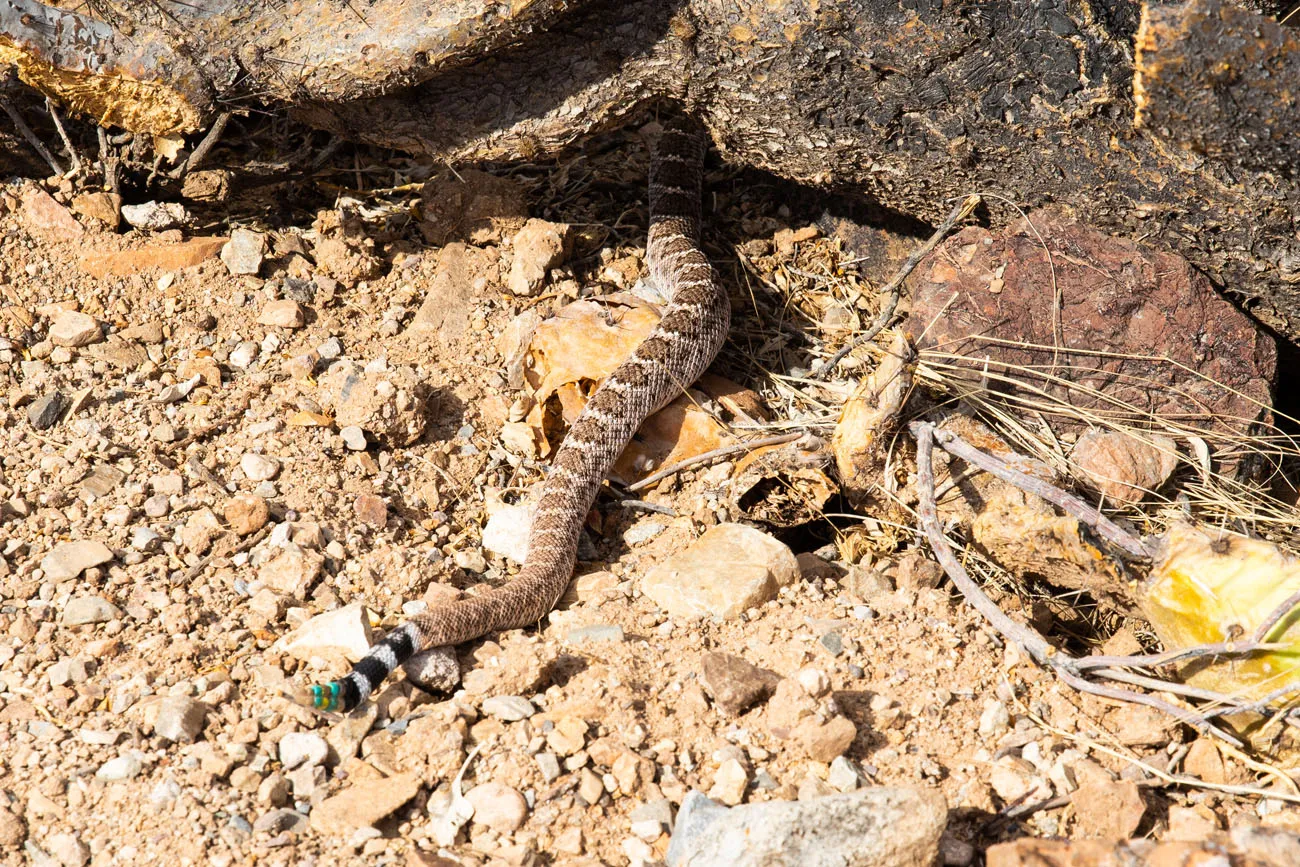 Website: Visit the official website for updated pricing and a full listing of their hours of operation.
SAGUARO EAST (RINCON MOUNTAIN DISTRICT)
This section of the park is smaller and less visited the Saguaro West. However, if you have the time, it's still worth the visit. And if you like the idea of backcountry camping, this is the place to do it (overnight camping is not permitted in Saguaro West).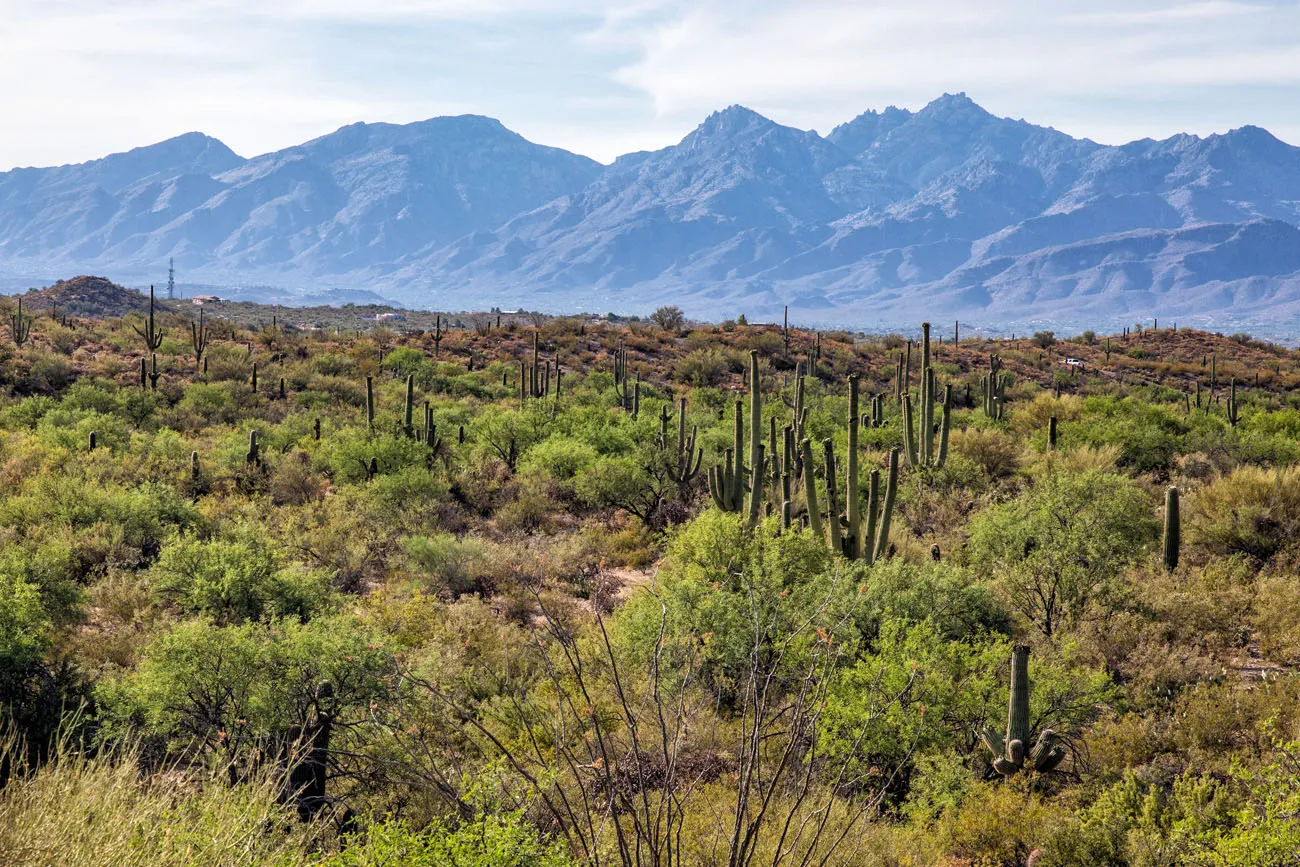 CACTUS FOREST DRIVE
This is an 8-mile loop through Saguaro East. It's one-way only, starting and ending at the visitor center. It is a paved road with plenty of pull-outs and viewpoints along the way.
Here are some things to do along the drive:
Desert Ecology Trail: short walking trail similar to the Desert Discovery Nature Trail in Saguaro West.
Javelina Rocks Overlook: climb up on top of the rocks for a view over Saguaro National Park and Tucson.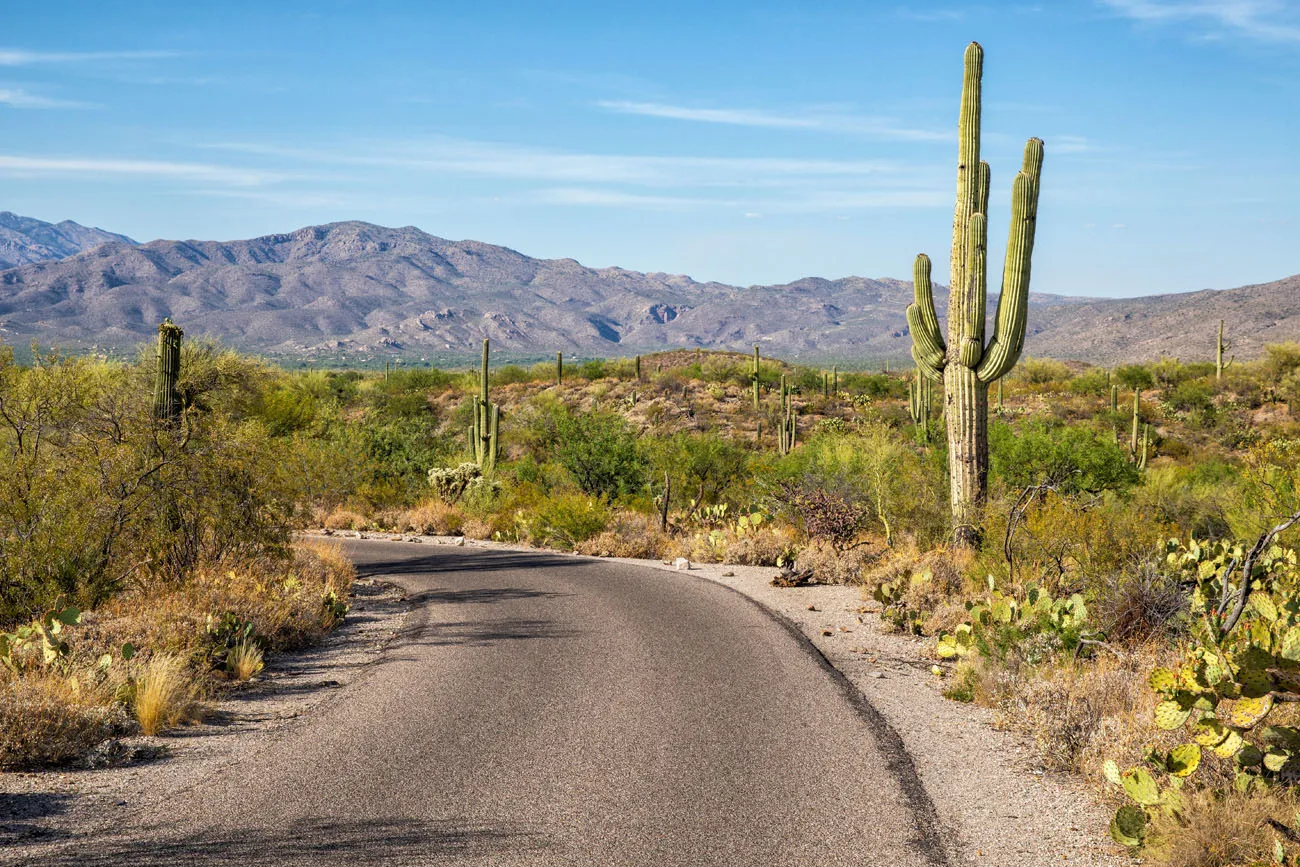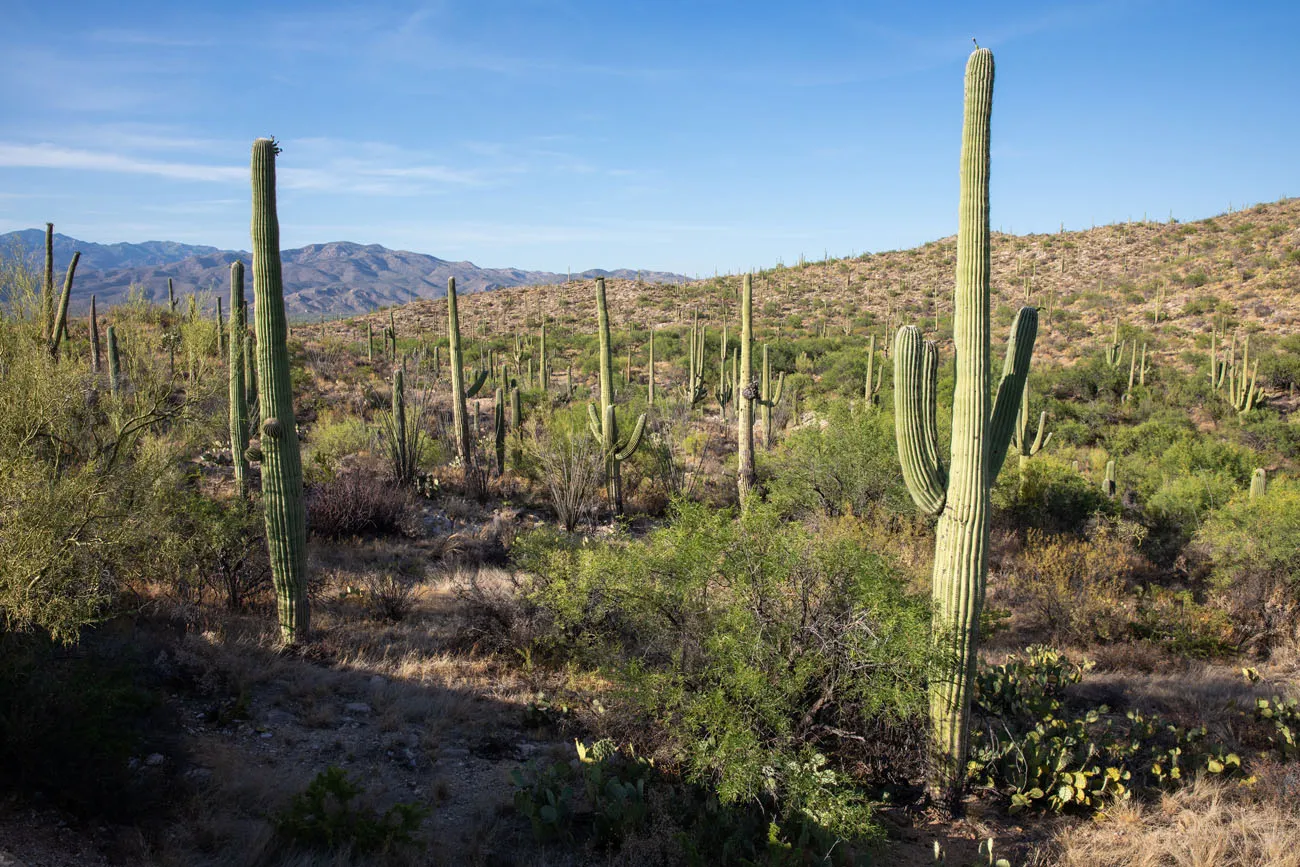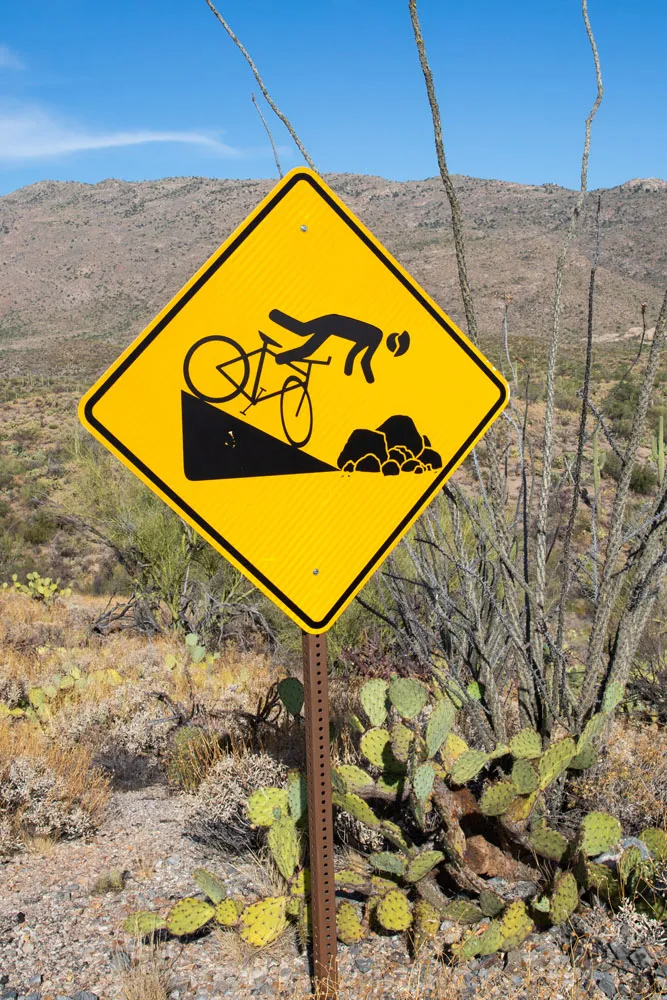 Nice warning sign. 🙂
HIKE IN SAGUARO EAST
There hundreds of miles of trails in Saguaro East, ranging from short, easy walks to multi-day backpacking trips.
The most easily accessible trail is the Mica View Trail. This 2-mile round trip trail is flat and easy to walk. Along the way, you'll get up close to giant Saguaro cacti and have nice views of the Rincon Mountains and Tucson. We saw roadrunners and other wildlife right from the trail.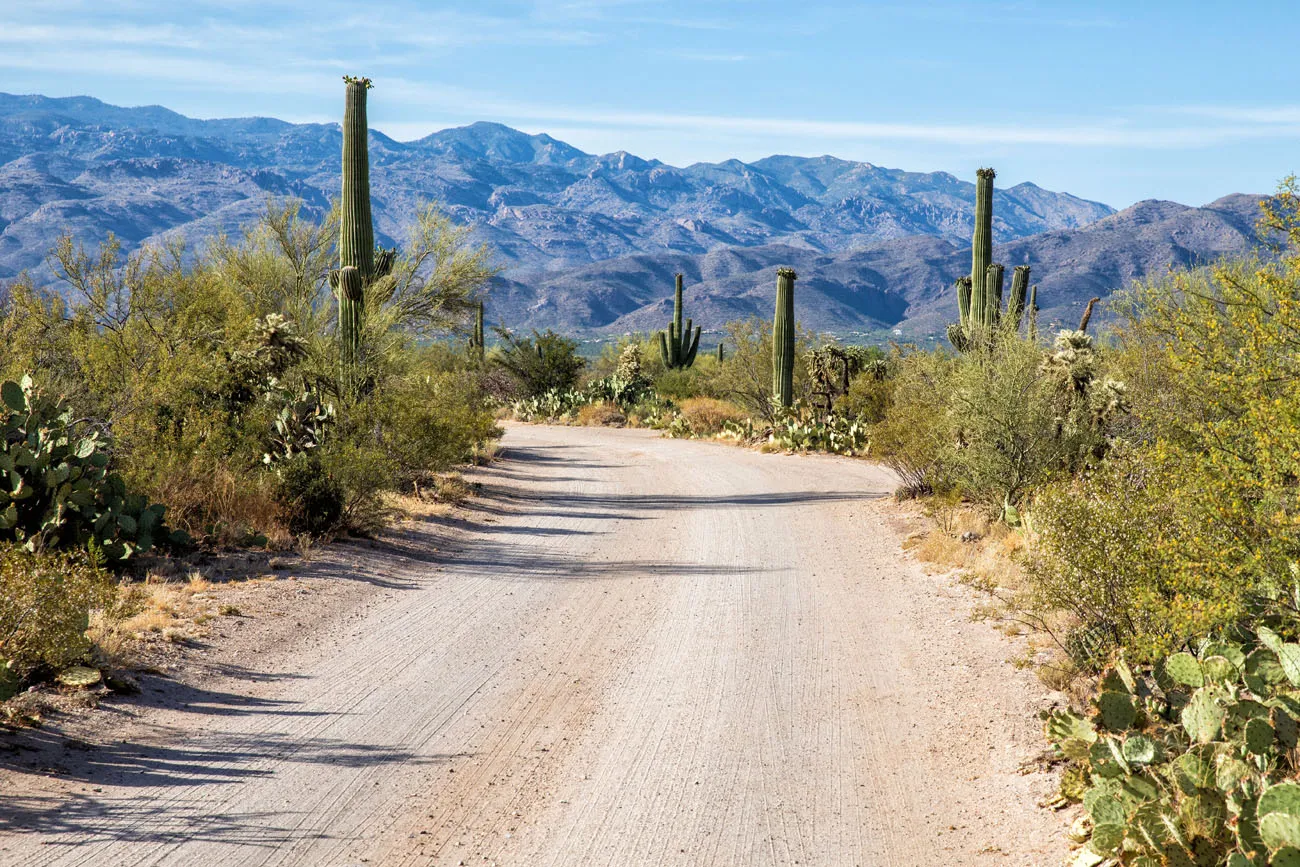 Access road to the Mica View picnic area.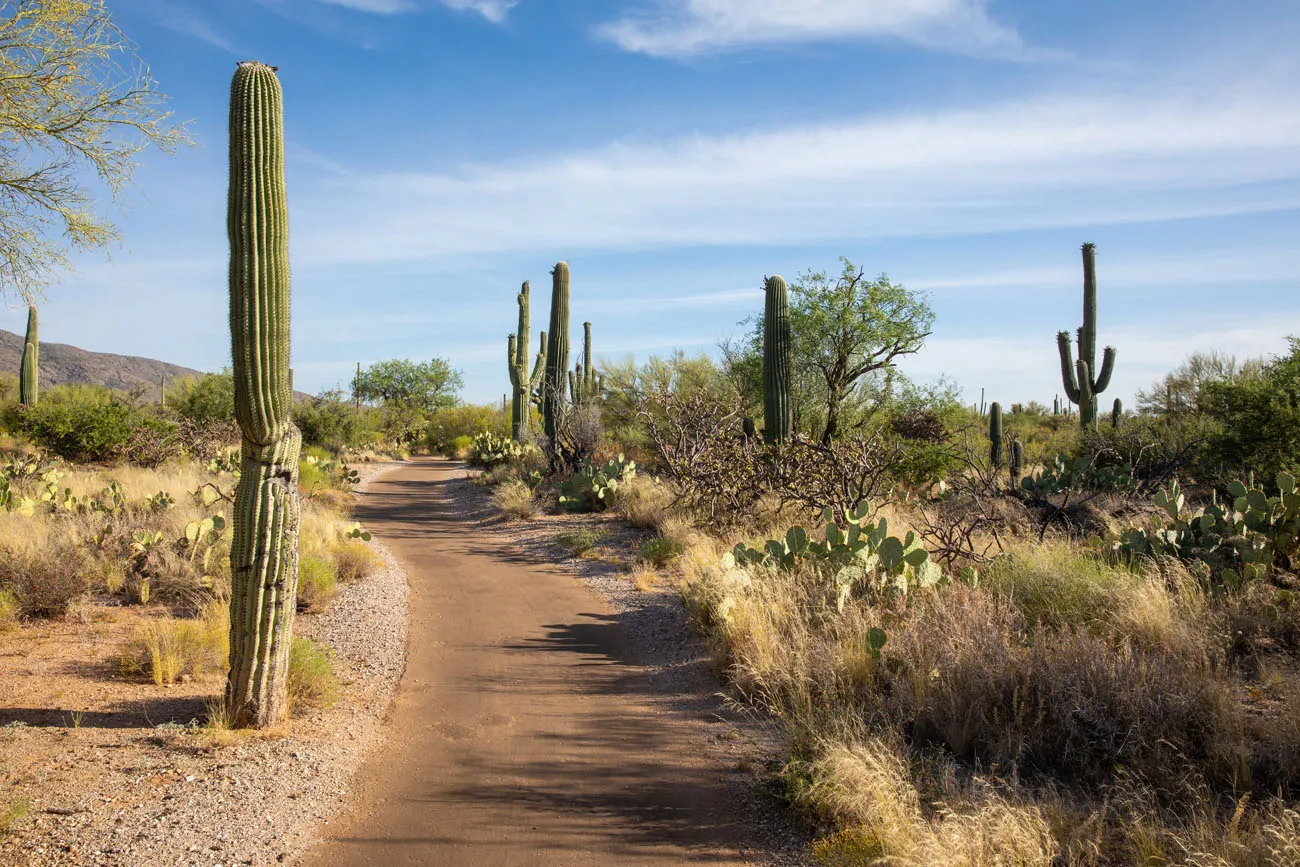 Mica View Trail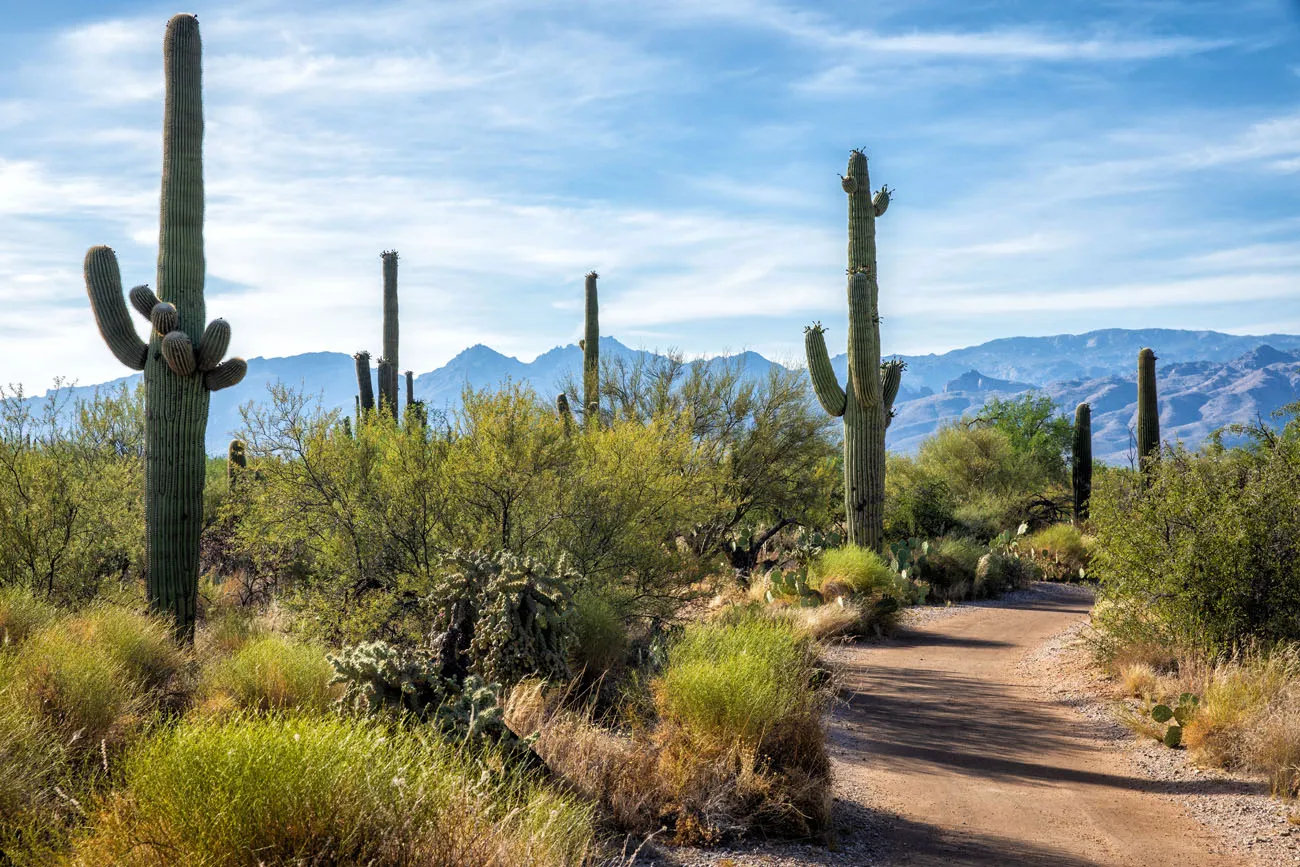 Mica View Trail
To learn more about hiking Saguaro East, visit the National Park Service website.
PLAN YOUR VISIT
Cost: $25 per vehicle. This is good for 7 days and includes both sections of the park.
Hours: The Tucson Mountain District (Saguaro West) is open from sunrise to sunset. The Rincon Mountain District (Saguaro East) opens at 6 am and closes at sunset. You can walk or bike into the park 24 hours a day.
Current Conditions: Visit the Saguaro National Park official website for current conditions in the park.
PLANNING YOUR TIME
One day is all you need to visit Saguaro National Park, unless you plan to go camping in the backcountry.
If you only have half of a day, we recommend visiting Saguaro West. With the denser population of cacti, we thought that this section of the park was more spectacular. Drive the Bajada Loop drive and hike to Valley View Overlook and Signal Hill and do the Desert Discovery Walk.
If you like the idea of hiking, consider the hike to Wassen Peak. Or, walk a section of the Hugh Norris Trail or the Sendero Esperanza Trail.
If you are traveling with kids, a visit to the Arizona Sonora Desert Museum is worthwhile, as long as you have several hours to spend here to make it worth the cost.
With a full day, you can visit both East and West Saguaro. Visit one section in the morning, have lunch, and in the afternoon, visit the other section of the park.
WHAT WE DID:
On day 1, we drove down from Sedona, arriving in Tucson in the late afternoon. We spent several hours in Saguaro East and then checked into our hotel in Tucson.
On day 2, we visited Saguaro West, getting an early start to avoid the hot midday temperatures. But it was still incredibly hot in June, hitting 95°F by 8:30 am. In the afternoon, we drove back to Phoenix.

WHEN TO VISIT SAGUARO NATIONAL PARK
June and July are the hottest months to visit. It's not unusual for high temperatures to top out over 100+ degrees during these months. In mid-June, monsoon season begins. Afternoon thunderstorms bring much needed rain and help to cool off the area, at least a little bit. Monsoon season typically lasts through September.
We visited the park on June 12 and the high temperature hit 107°F.
Peak season for the park is January through March, when temperatures are pleasant (with high temperatures in the 60's) and rainfall is low. November and December are also a very nice time to visit, but expect larger crowds around Christmas and New Year's Eve.
If you want to visit the park when the Saguaro cacti bloom, your best chance of seeing the blooms is between early May through the first week of June. On our visit on June 12, the blooming season had just ended, so we just missed out.
June through September receives the lowest number of visitors.
HOW TO GET TO SAGUARO NATIONAL PARK
Here are driving distances and times from nearby destinations:
Phoenix, Arizona: 115 miles, 1.75 hours
Sedona, Arizona: 230 miles, 3.5 hours
El Paso, Texas: 320 miles, 4.5 hours
WHERE TO STAY
There are no accommodations inside Saguaro National Park, unless you plan to camp in Saguaro East. To do this, you will need a permit. Learn more on the official national park website.
One of our awesome readers recommends Gilbert Ray Campground. It is located just outside of Saguaro West and he says you get great views of the cacti. Thanks Alex!
There are many places to choose from in Tucson, with an abundance of chain hotels like Holiday Inn, Hampton Inn, etc. Here are a few suggestions with more character, based on budget and amenities.
Upscale: JW Marriott Tucson Starr Pass Resort and Spa. If you want a resort with swimming pools, restaurants, and outdoor activities, and a close location to Saguaro West, this is the place to stay.
This is where we stayed. We chose this hotel for its location and great reviews. It was our 20th wedding anniversary and we got upgraded to the Presidential Suite. It was an incredible surprise! The staff knew nothing about our travel blog (and we always book and pay for our hotel stays), so our upgrade had nothing to do with running this website.
If you are traveling with kids, this place is great. There are several pools, a lazy river, and corn hole, so there's a lot to keep kids busy and happy.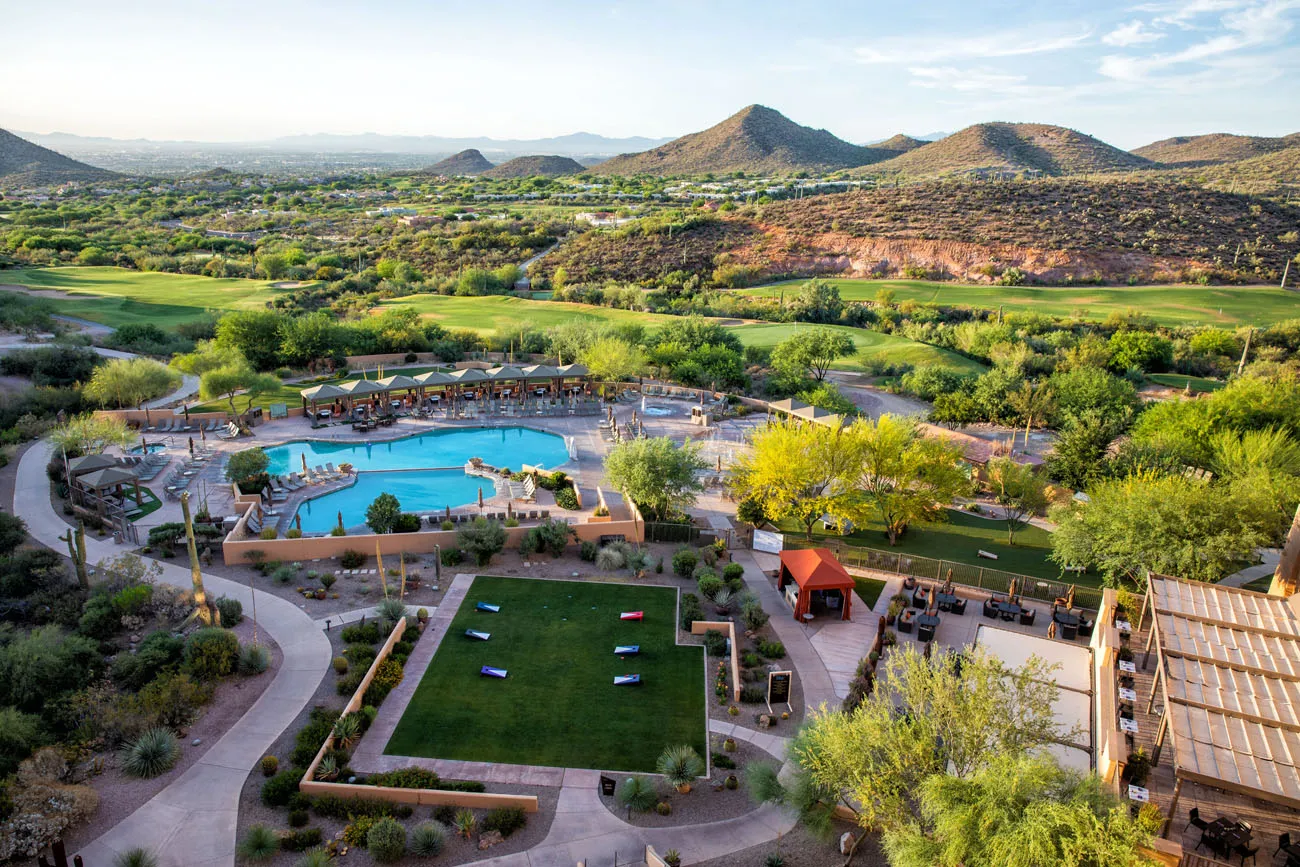 Mid-Range: Cactus Cove Bed and Breakfast Inn. This bed and breakfast is located in eastern Tuscon, near Saguaro East. This beautiful property has an outdoor pool and views of the nearby mountains. It is adult only.
Budget: Hotel McCoy. This hotel has a handy location just off of Route 10. From here it is a 30-minute drive to both Saguaro West and Saguaro East. The property has a pool and offers beer, wine, and coffee which are all produced in Arizona.
---
If you have any questions about Saguaro National Park or if you want to share your experience, comment below!
MORE INFORMATION FOR YOUR TRIP TO ARIZONA
PLACES TO GO IN ARIZONA: Go hiking in Sedona, visit Petrified Forest National Park, explore Monument Valley, photograph Antelope Canyon, and visit the South Rim of the Grand Canyon. Learn how to put all of this together in our Arizona Road Trip Itinerary.
GRAND CANYON: Check out our guides to the Best Things to Do on the South Rim, how to spend one perfect day in the Grand Canyon, and which South Rim viewpoints are the best ones to visit. For amazing views of the Grand Canyon, check out our guide to the Grand Canyon Helicopter Tours.
SEDONA: To learn what there is to do in Sedona, read our article Best Things to Do in Sedona. To help you plan your time, check out our One Day in Sedona Itinerary and Sedona Itinerary Ideas for 1 to 6 days. For links to all of our Sedona articles, check out our Sedona Travel Guide.
PETRIFIED FOREST: This small national park is an underrate gem. Plan your visit with our guide to the Best Things to Do in Petrified Forest National Park.
ANTELOPE CANYON: Journey through Upper Antelope Canyon and Lower Antelope Canyon in photos. If you only have time for one, don't miss our article Should You Visit Upper or Lower Antelope Canyon?
NATIONAL PARKS: In our Guide to the US National Parks, get the full list of national parks with important travel planning information, such as things to do in the parks and sample itineraries.