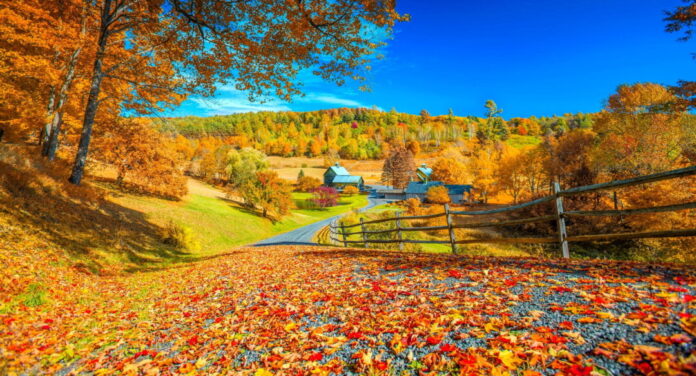 Autumn is about great pumpkin patches, hoodie weather, and fantastic foliage. Fall has fallen and if you're a foliage aficionado then you know it's time to leave your home and take in all the cool colors. So in order to assist you with your lovely leaf-peeping plans, we have gone through a virtual cornucopia of fun fall towns to determine the very best in the US. Thus, without further ado, here are the best 15 small towns in the US for fall foliage. 
The 15 Best Small Towns In The U.S. For Fall Foliage
1. Silverton, Oregon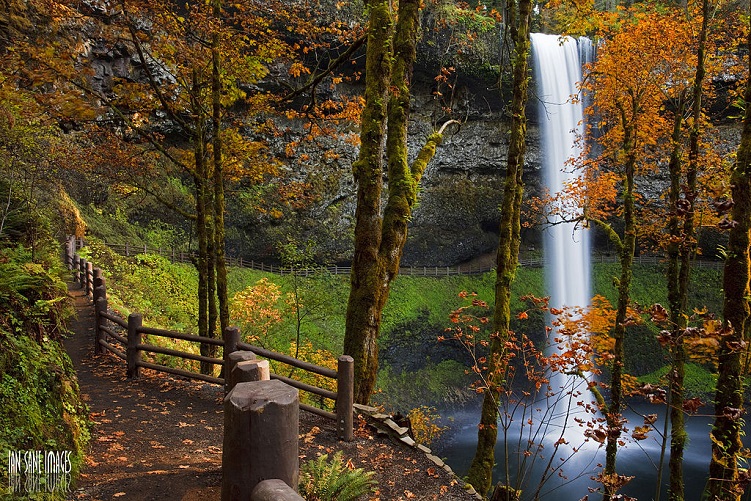 Silverton is arguably one of the most charming towns in the state. Nestled in the Willamette Valley, this area is known for its pinot noir production, and it offers an attractive array of fall foliage. Head to nearby Silver Falls State Park and check out the nigh-countless cascades fittingly framed by the brilliant colors of fall. 
Find fantastic foliage in the awesome 80-acre Oregon Garden, which includes an impressive 40-year-old signature oak tree, wetlands, and more than 20 specialty gardens. Since Portland is so close, why not go check out the pretty Portland Japanese Garden with its well-known Japanese maples and their seasonally vibrant orange-red leaves as well?  
2.

Saranac Lake, New York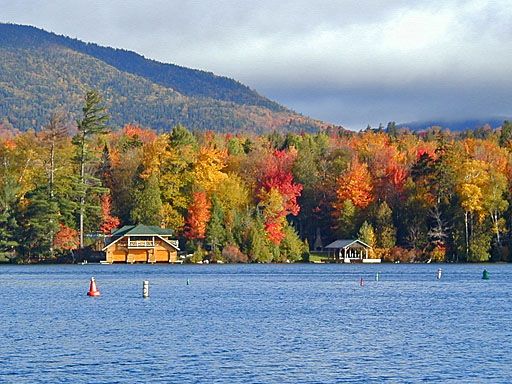 The scenic village of Saranac Lake is a scenic village and namesake lake nestled in the Adirondacks. Oddly, the village is reportedly "centered around Lake Flower." Saranac Lake is actually located close to the village. Athletic types will love this place as there are a number of different hiking trails here, many miles of them, in fact.
The most noteworthy hiking trails are the Baker Mountain Trail and the Bloomingdale Bog Trail because they are great places to take in the multi-colored autumnal glory. Get a good look at the subtle and not-so-subtle shades of blazing orange, fire engine red, and mellow yellow. When you are pooped from leaf-peeping, grab a bite to eat at one of the local restaurants. Explore the place and see the farmers' markets full of fresh produce, art galleries, and shops too.  
"Professional" leaf peepers say some of the best fall colors in New England are found in Stowe. Indeed, some say the state is "Fall's Color Capital." Regular readers may well recognize Stowe is, in fact, a favorite of fall foliage fans from its inclusion on another list.
This postcard-perfect place comes complete with cute, covered bridges and charming church steeples. It's all more beautiful backdropped by a plethora of plants and trees that turn different shades of brown, red, orange, and yellow. The best time to visit is between late September through the middle of October. 
If you're up for it, take a hike here or go for a bike ride. If you go when the weather's a bit chilly for you, take a nice scenic drive down the well-known Mount Mansfield Auto Toll Road. Speaking of chilly, if you like ice cream and art, you are in luck here!
Stop at the Ben & Jerry's Waterbury Factory. If you schedule your visit right, there are a number of annual arts and crafts events and festivals too. Join the festivities at the popular Pumpkin Chuckin' Festival hosted at the attractive Stoweflake Mountain Resort. Activities include live music, a trebuchet contest, a chili cook-off, and assorted activities for the kiddies as well.
The seaside village of Camden, Maine, is a stunning stop with something for just about everyone. There are miles and miles of places to hike and go for scenic drives to take in the fantastic fall foliage showcasing the incredible color. Some places, such as the magnificent Maiden's Cliff trail located in Camden Hills State Park, include lake or ocean views too.
Visit between late September through October and enjoy the assorted array of colors on the terrific tree-filled islands in Lake Megunticook. See the ocean and Mount Battie's trees by cruising Camden Hills Auto Road. Go to the Camden Snow Bowl and ride the popular Fall Foliage Chair Lift and see all the colors as it takes you up rugged Ragged Mountain.
5.

Fayetteville, West Virginia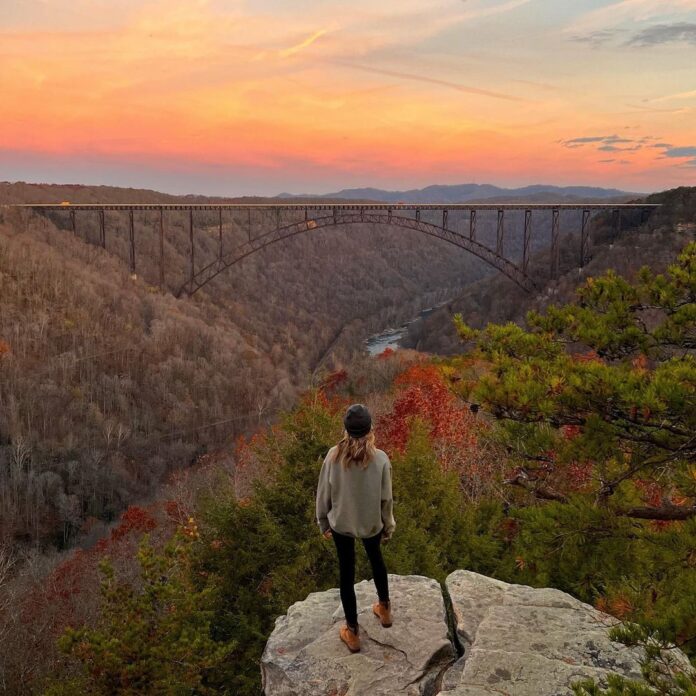 Found mere minutes from the famous New River Gorge National Park and Preserve, the newest national park, Fayetteville is fairly surrounded by massive mountains that are blanketed with fall foliage every autumn. This small-town getaway was also voted to be one of the coolest towns in the US. It's also a popular place for hikers, rock climbers, and mountain bikers.
Outdoor adventurers should enjoy hiking the Endless Wall and Long Point trails, and fishing and floating the popular New River Gorge National Waterway. Less sports-inclined visitors should love the New River Gorge Bridge, the town park, the shops, and assorted eateries located downtown.  
6.

Sugar Hill, New Hampshire
Sugar Hill is named after its numerous sugar maples and is perhaps a rather obvious choice for seeing spectacular fall foliage. It's a tiny town with less than 500 residents. Additionally, it overlooks the well-known White Mountain National Forest with scenery so stunning it is almost unbelievable.
Indeed, you use this humble hamlet as your base and tour both the autumn hues and quaint covered bridges from one place. Be sure to take the popular fall foliage drive along the Kancamagus Highway which crosses through the very heart of the majestic White Mountains. You can also take the gondola all the way up lovely Loon Mountain and then go hiking through popular Franconia Notch State Park, which some say is most beautiful in the fall.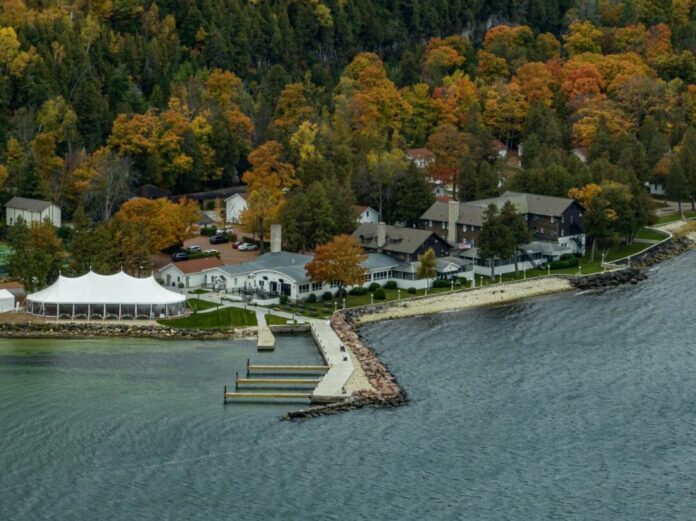 Egg-ceptional Egg Harbor is located in an area that includes farmland, nature preserves, and lush orchards. More importantly, it is what some eggs-perts call one of the Midwest's "best fall foliage destinations." Veteran visitors suggest taking the drive from Egg Harbor to nearby Ephraim along route WI-42. 
Egg Harbor itself includes a foliage-lined main street. You can egg-splore the various bakeries, boutiques, galleries, and restaurants as you go leaf-peeping. Peak colors can be seen between early and mid-October. Visit during the second week of October and participate in one of the largest annual festivals here, the Egg Harbor Pumpkin Patch Festival. It includes carnival rides, live music, fall food vendors, arts and crafts vendors, and more.
8.

Copper Harbor, Michigan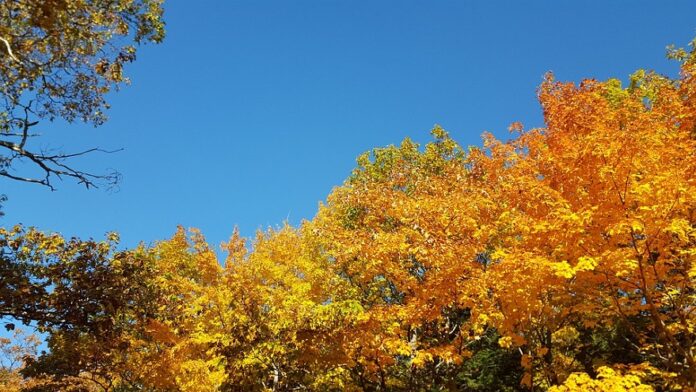 Copper Harbor is situated at the Keweenaw Peninsula's northern tip. It is edged by Lake Superior and surrounded by a verdant forest. It's reputedly fantastic for fall foliage because this highly praised lake town becomes a colorful kaleidoscope complete with forests that feature an assortment of deciduous trees and coniferous species as well. 
Enter the town via US-41, as the popular "Tree Tunnel" will be at its best. Here you can go hiking and even mountain biking among a colorful cornucopia and even enjoy a couple of waterfalls to boot. Try to schedule your visit sometime between late September through the middle of October to peek at the leaves at their transformative peak.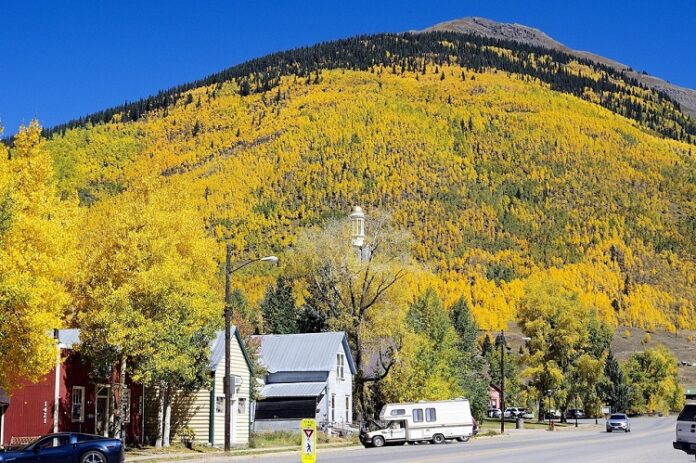 The tiny town of Silverton, Colorado features streets lined with historic buildings that include boutiques, saloons, assorted eateries, and hospitable hotels. More importantly, it is surrounded by the impressive peaks of the striking San Juan Mountains. As of some time in October, the mountain slopes will be covered with aspens and oaks that will be bursting with brilliant colors.
Cruise along the Million Dollar Highway. This 25-mile-long stretch of famous US 550 will live up to its name as you take in million-dollar views of autumnal awesomeness. If you want more, hop aboard the popular Durango & Silverton Narrow Gauge Railroad as well.
10.

Linville, North Carolina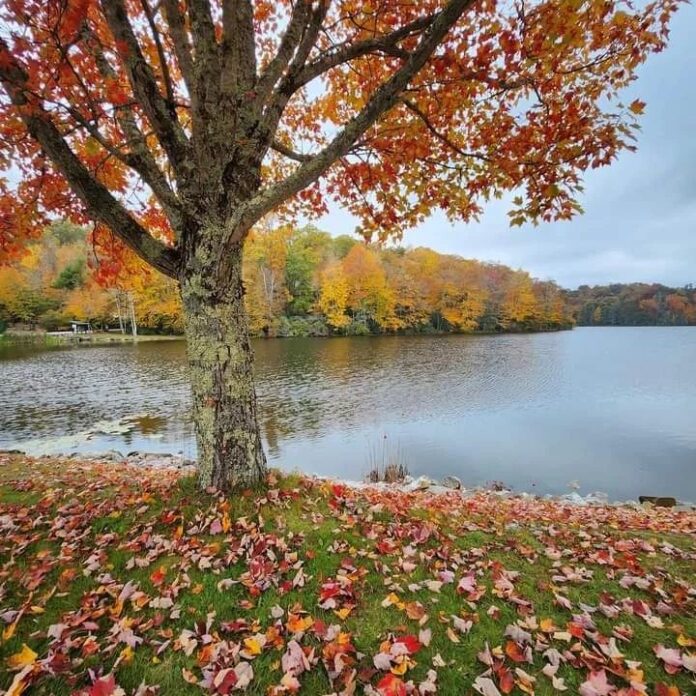 Linville is said by some to be an outdoor adventurer's paradise. In the fall it features an impressive abundance of color too. The first place to peak, due mainly to its elevation, is the eastern Blue Ridge Mountains' highest peak, Grandfather Mountain. 
You will also discover an incredible array of plants and trees thriving at different elevations. Thus, you will see a number of different colors including blood red, deep purple, bright yellow, and vibrant orange. Be sure to visit Linville Gorge, a.k.a. the "Grand Canyon of North Carolina." Those in the know recommend taking in the view from the well-known Wiseman's View.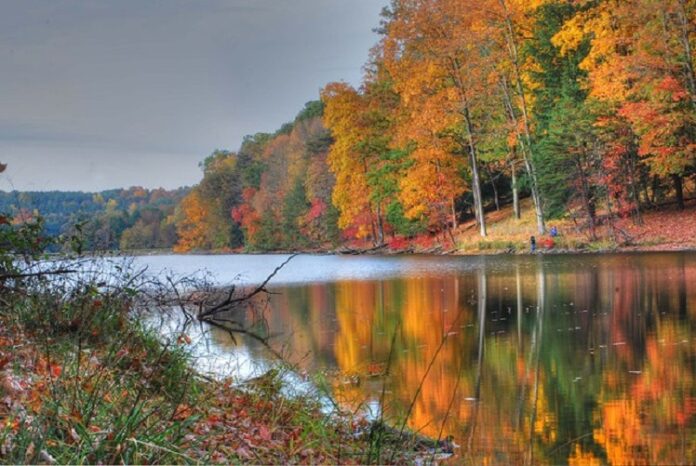 The city of Logan is the well-known gateway to Ohio's Hocking Hills State Park. It includes cascading waterfalls, dramatic gorges, and stunning autumn displays. See some of the striking fall colors by driving the scenic Hocking Hills Scenic Byway, which highlights Hocking State Forest and passes Hocking Hills State Park. 
If you enjoy hiking, you may even want to think about staying overnight to enjoy the many hiking trails from which you can choose. Ah, but if you have only budgeted enough time for one hike, take the popular Conkles Hollow Rim Trail. Travel writers confirm this one "is optimal for fall foliage." Are you in the mood for something completely different? Try checking out the leaves from a hot-air balloon or while whizzing along a zipline.
12.

Stockbridge, Massachusetts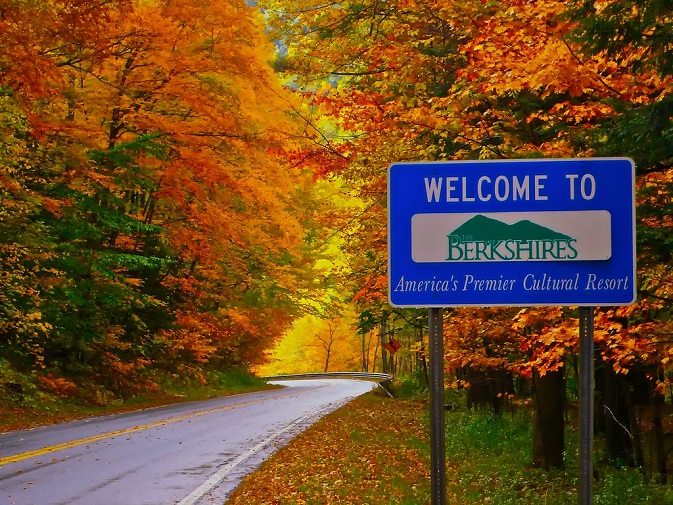 You will find Stockbridge deep in the heart of a famous fall foliage destination, the beautiful Berkshires. This charming town features several antique shops and museums such as the Norman Rockwell Museum. The famous 20th-century painter, illustrator, and author, Norman Rockwell, was born here.
The surrounding countryside is not only scenic but great for biking and hiking. If you're feeling less athletic, take a drive on some of the local roads framed with scarlet and gold. Lake Mahkeenac, a.k.a Stockbridge Bowl, is definitely a must-see for magnificent multi-colored displays.
13.

Leavenworth, Washington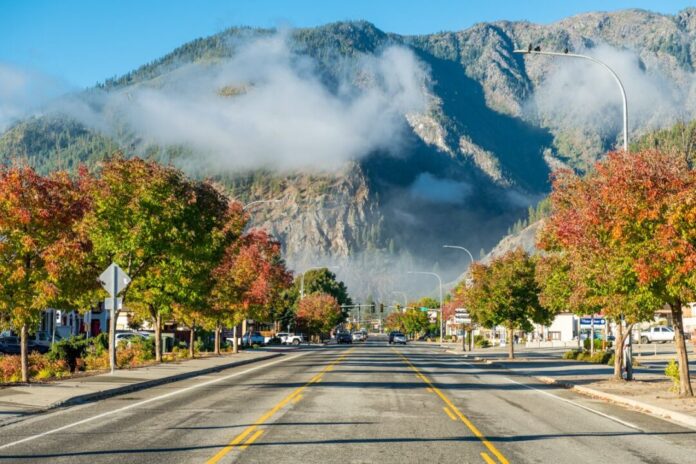 Leavenworth is a picturesque Bavarian town nestled on the eastern slopes of the majestic Cascade Mountain Range. It's not only a great place to get a bit Bavarian in the rugged Pacific Northwest, but it is also one of the best small towns to take in some autumnal colors. There are several noteworthy fall foliage routes here.
They include a stretch of Highway 2 just north of town, which leads you across the mountains amongst gorgeous gold and yellow trees strikingly reflected in lovely Lake Wenatchee. Drive south on nearby Highway 97 and take in the sight of Blewett Pass' forests blanketed in brilliant red aspens, cottonwoods, and huckleberry bushes. The best time to catch the colors is generally in late September through the middle of October.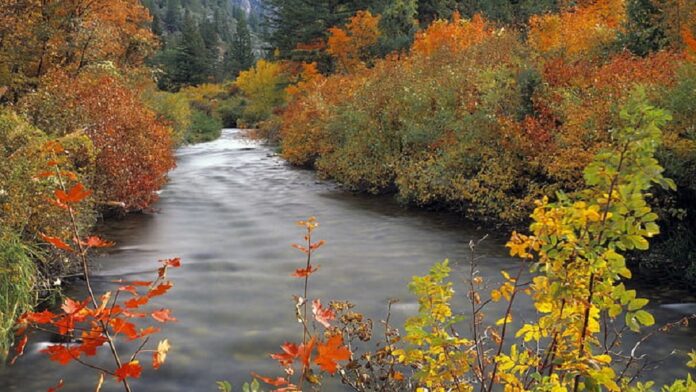 Breathtaking Ketchum is a historic mountain community best visited in the fall. The autumn colors are reported to be "absolutely stunning." The colorful transformation physically begins at Wood River Valley's northern end.
Over the following weeks, the attractive tints seem to spread down to both the town of Bellevue and Sun Valley's popular ski mountain, Bald Mountain. This popular mountain is actually one of the best spots to get the elevation to see all the magnificent multi-colored trees throughout the city of Ketchum. Experienced fall foliage followers know the best time to visit is in early October. Take the memorable 1.8-mile hike to the panoramic overlook and get a real bird's-eye view of both the rushing Big Wood River and the town as well.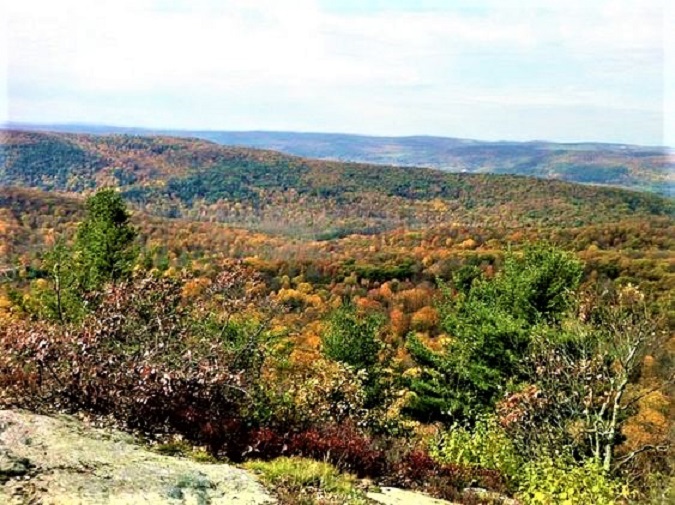 Kent is a super spot for seeing some of the best fall foliage in the Connecticut Berkshires. The nigh-iconic long and winding roads are lined with farms, lakes, and meadows, and mountain summits lined with gold, orange, and scarlet too. It is a colorful and serene landscape.
Be sure to visit Macedonia Brook State Park, home to the popular Cobble Mountain Trail. It provides hikers with excellent vantage points from which to take in the many natural colors there. If you have time, stop in at Kent Falls State Park as well.  
Be sure not to miss the 200-foot-high waterfalls there! When you have had your share of fall foliage, don't make like a tree and leave until you have explored the town. It is well-known for its art galleries, antique stores, and an assortment of outstanding eateries as well.
As a general rule, late September through October is the best time to catch the colorful changes in the US. Nevertheless, the transformation can be impacted by temperature, weather, and even elevation.