Are you looking for a great place to go tubing? Are you headed for the US state of Florida? Do you enjoy laidback, lazy river tubing? If so, you're in luck! Here are the 10 best places to go lazy river tubing in Florida!
10 Best Places To Go Lazy River Tubing In Florida
1. Ginnie Springs Outdoors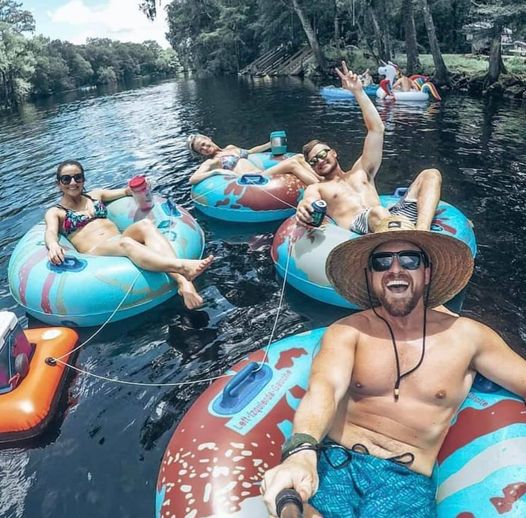 Florida locals will confirm that Ginnie Springs is one of the popular getaway spots. This 600-acre oasis is less than sixty minutes from nearby Gainesville airport, nestled on the Santa Fe River's south side. Once a native Timucuan reservation, stone tools were manufactured here.
Even today, divers discover stone arrowheads and broken pottery pieces amongst the six springs here. Begin your lazy river tubing adventure at the convenient Beaver's Landing access, and let the calming currents take you away like a classic Calgon commercial. The trip is roughly one hour in length.
You can rent tubes at the homey Ginnie Springs General Store. If you would like to use your own tube, you can fill it at the handy free air station. It's open year-round and alcoholic beverages are allowed. It's busiest in the spring and summer.
2.

Kelly Park and Rock Springs Run State Reserve
Kelly Park is located less than half an hour out of Orlando in Central Florida. This historic Orange County nature reserve in Apopka includes 325 acres of verdant lagoons, wildlife, and lazy rivers perfect for tubing. It's the perfect place for the entire family to go tubing.
It's a little short, just three-quarters of a mile long, but there are several boardwalks along the way, so you can take a break and explore a bit before re-launching. Additionally, you can enjoy the rock springs, and go canoeing or kayaking down the eight-mile Rock Springs Run. It's a great route for those interested in the local sub-tropical flora and fauna. In the summer, this place is open from 8:00 a.m. to 8:00 p.m.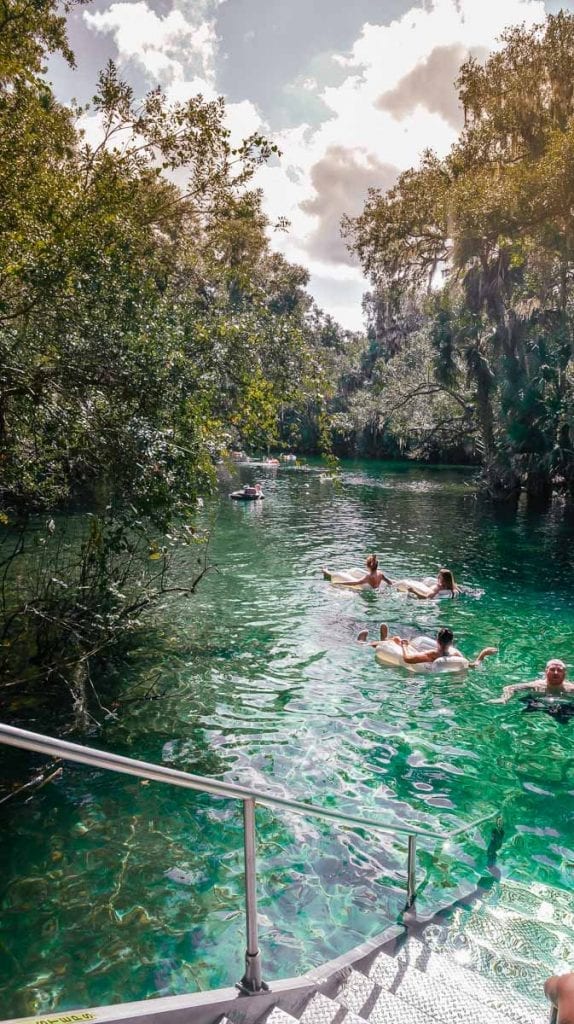 You'll find Blue Spring State Park north of Orlando in Orange City. It's home to 2,600 acres of outdoor adventure including a manatee refuge, and the biggest natural spring on the entire St. John's River. The tube run here is short but the water is reportedly crystal clear.
Blue Springs Adventures will not only rent you tubes but also offer canoe and kayak rentals. The park itself offers guided boat tours. If you want more, this state park is also a popular place for birdwatching, diving, fishing, swimming, hiking, and simply exploring the tropical greenery. You can even stay and camp in tents or cabins. No matter when you visit though, be sure to get there early as it frequently reaches official maximum capacity surprisingly early in the day.
4.

Rainbow Springs State Park
This historic park is situated in Dunnellon, less than half an hour from the city of Ocala. It is separated into 3 areas, the campgrounds, the main "headsprings" section, and, of course, the tubing area. This is a family-friendly place complete with several miles of lush vegetation, gardens, waterfalls, the bubbling, namesake springs, and a lovely lazy river.
Head for the tubing entrance, stop at the concessionaire's, board the shuttle, and leap Rainbow River. If you enjoy the 2-hour float but still crave more, hit the headsprings area and go snorkeling, swimming, or simply soak in some sun.
Visit whenever it suits you. The water is between 10 and 18 feet deep and more importantly, always 72 degrees Fahrenheit. You can even rent a canoe or kayak and look for wildlife in this interesting aquatic preserve. The park's even a well-known spot for geocaching.
5.

Blackwater River State Park
The beautiful Blackwater River State Park is nestled in Florida's Panhandle under one hour away from Pensacola. It includes nearly 600 acres of verdant forests and one of the country's purest sand-bottom rivers. Much of the area near the river is surprisingly undisturbed.
Opened in 1968, the park's creeks are a part of the biggest wiregrass ecosystem on the planet. That's rarer than even a tropical rainforest. It features a striking four-mile stretch of water perfect for lazy river tubing and swimming too. You can rent kayaks and canoes here as well and the white sand beaches are perfect for picnics.
The park's name is actually misleading. The water isn't black. It typically looks more like a clear gold color. The best time to visit is in the summer but it's open all year, from 8:00 a.m. 'til sunset.
6

Madison Blue Spring State Park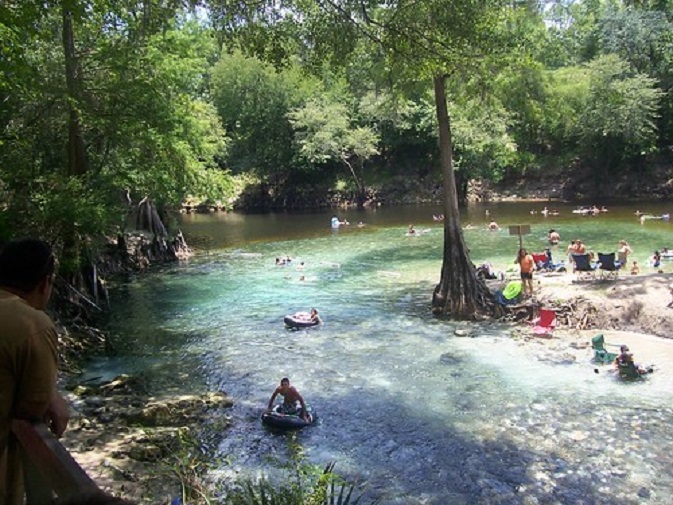 This state park is located between the towns of Lee and Jasper, along the Withlacoochee River. It's one of the state's newest parks. The locals once came here for fresh water.
Today this spot is hot for birding, cave diving, fishing paddling, and lazy river tubing. USA Today once voted Madison Blue Spring State Park "the Number 1 Swimming Hole" in the US. The water here is sapphire-colored.
There's plenty of room too since it is almost 82 feet in width and between five and 25 feet in depth. Indeed, it also features the area's biggest underwater cave system so it's big with scuba divers. Although the park is open all year, you can only go tubing in the springs and river on the weekends and then only between May and September. No food, beverages, or disposable items are permitted here.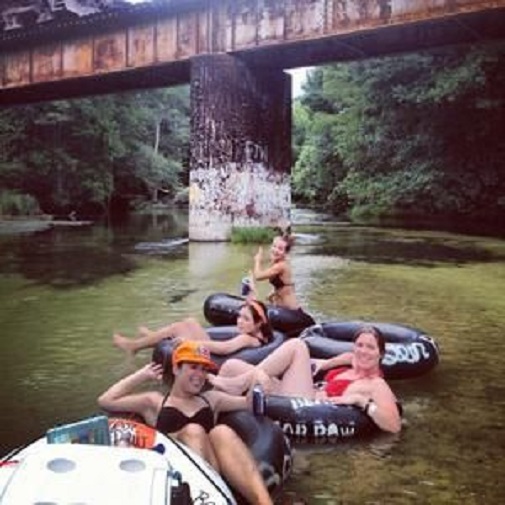 This scenic park is nestled in the little town of Marianna. It's a great place for longer paddling and lazy river tubing adventures. Here you can relax and float for almost four hours along the crystal-clear water.
Spring Creek is sand-bottomed and shallow. It begins at popular Merrit's Mill Pond and runs to the well-known Chipola River. The former spans an area of under 270 acres and has a depth of between 10 and 12 feet.
The park is comparatively small and yet it's a popular place for fishing, spotting turtles, and tubing. Tubing on this fun, spring-fed creek is a crowd-pleaser so it's best to get there early. Visit in the summer because the water gets as brisk as 68 degrees Fahrenheit.
8

Weeki Wachee Springs State Park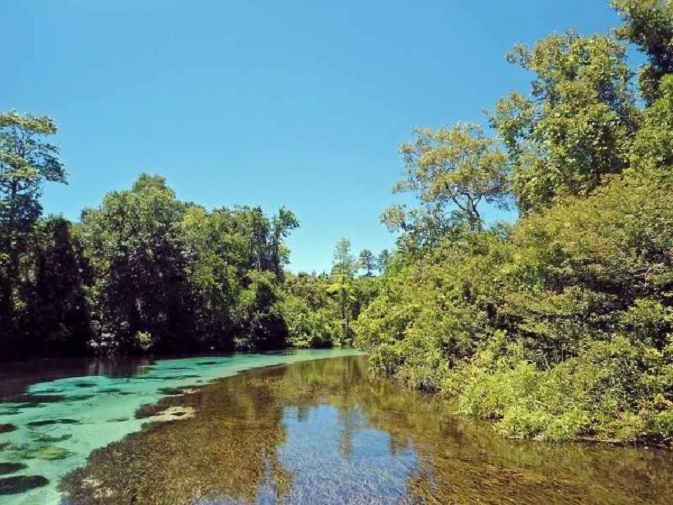 Less than 60 minutes from Tampa, in Hernando County, is the wondrous Weeki Wachee Springs State Park. In the language of the Seminole native, "Weeki Wachee" means "little spring" or "winding river." In the late 1940s, this now historical place was a well-known roadside attraction, famous for its "live mermaid" shows.
Today it remains famous for its mermaid shows, 16 to 20 feet under the water. Weeki Wachee Spring is one of the nation's official "deepest natural water holes." The bottom has yet to be found!
Other than the mermaids and water slides, you can also enjoy a brief 20-minute lazy river tubing float at beautiful Buccaneer Bay. It's perfect for those with short attention spans. The three slides are nearly 30 feet high. You can also go canoeing, kayaking, or paddling. The best time to visit is between October and March when there's less chance of rain.
9

Ruth B. Kirby Gilchrist Blue Springs State Park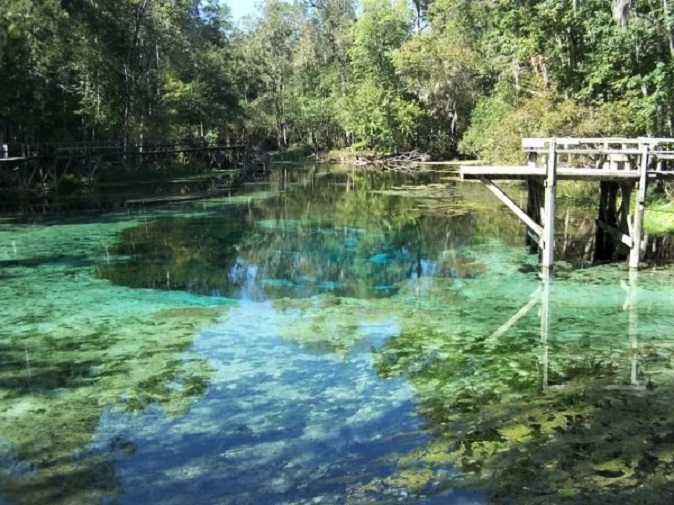 This is Florida's newest state park less than 20 miles from Gainesville. It covers 250 acres and includes a number of natural springs and is named after its previous owner. The park's well-known for its diverse wildlife species and ecological habitats.
It also offers visitors the chance to go snorkeling, hiking, camping, and more. Tubing in the park's main spring is a big draw but for the safety of both you and the wildlife, tubing is only permitted in specific areas. You can do the run to the river in a kayak or canoe as well.
10.

Coldwater Creek Paddling Trail
Finally, last but certainly not least, we head to Milton to experience tubing on the popular Coldwater Creek Paddling Trail. Veteran visitors confirm it is "picture-perfect" and conveniently located near the Blackwater River State Forest and Pensacola Beach. Milton might advertise itself as the "Canoe Capital of Florida", but it's also one of the state's best places to go lazy river tubing.
The current here is comparatively quick and can reach three miles an hour. Nevertheless, this tubing excursion runs between four and five hours and comes complete with memorable scenery including towering cedar trees and a lot of wildlife. There's even a fun stop at a fun rope swing.
Pack a lunch in a cooler and stop on one of the numerous sandbars for a short picnic lunch. As you may have guessed by the name, the water is a little colder than some of the other places on this list. Thus, the best time to visit is during the summer months between early May and late August.
Understand though, that you will not find as many of the assorted amenities offered in other state parks. Still, be prepared and you will experience a tubing adventure that you will never forget. So pack your swimsuits and water shoes and get ready to rock the river… lazily, that is.