When I first saw images of a landscape that looks like Mars in Utah on Instagram, I had to do some Google research to find it. It took a little while, but the name of the rainbow mountains in Utah is the Bentonite Hills.
While there are several places that look like this in Southern Utah, the best place to see this Mars landscape is the Bentonite Hills Utah.
Located just east of Capitol Reef National Park, the Bentonite Hills are not part of the national park system. This area is BLM and state-run land, but it is a must-see if you are visiting Capitol Reef on your Utah road trip itinerary. It's one of the places that put Utah on our list of bucket list destinations.
Find out everything you need to know to visit the Bentonite Hills including the famous photo location, what kind of vehicle you need to get there, and other nearby things to do like the equally photogenic Leprechaun Canyon.
***This post contains affiliate links meaning we earn a small commission at no extra charge to you if you use them to book or purchase something.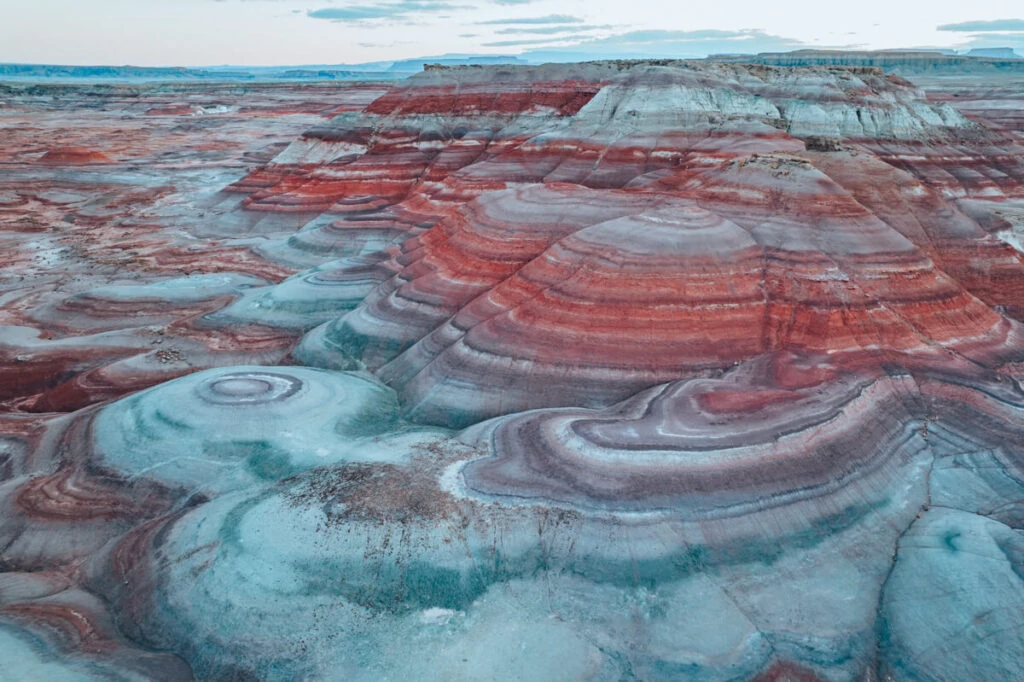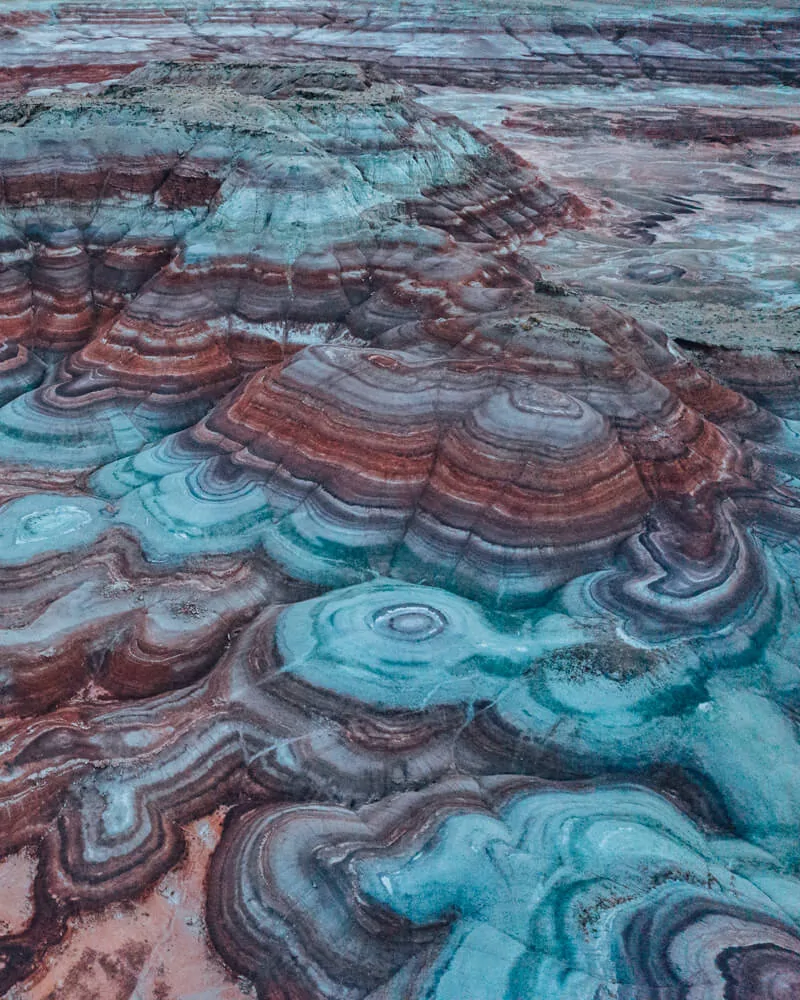 How to Get to the Bentonite Hills in Utah
The Bentonite Hills are located just east of Capitol Reef National Park and just west of Hanksville, Utah, along UT-24E. There are plenty of spots to pull off the main road onto dirt roads to get into the Bentonite Hills, and you can take your pick for the best path to take.
You can also take a day trip from Moab to the Bentonite Hills, but it will be a long drive back after sunset as it is about 2.5 to 3 hours each way. To get to the rainbow mountains of Utah from Salt Lake City is a 4 hour drive.
One of the first places we saw the colorful mountains in the area was on the first part of the Cathedral Valley loop on our way to see the Temple of the Moon, Temple of the Sun, and Glass Mountain. As you take the 4×4 only road to get to that part of Capitol Reef, you'll notice a variety of landscapes on the way including the striped hills that give the area the Mars look.
We also took several other unnamed dirt roads in the area, and there are lots of ATV and dirt bike recreation areas in the area as well. Some of the roads require you to cross the Fremont River, but the water was very low when we visited in May.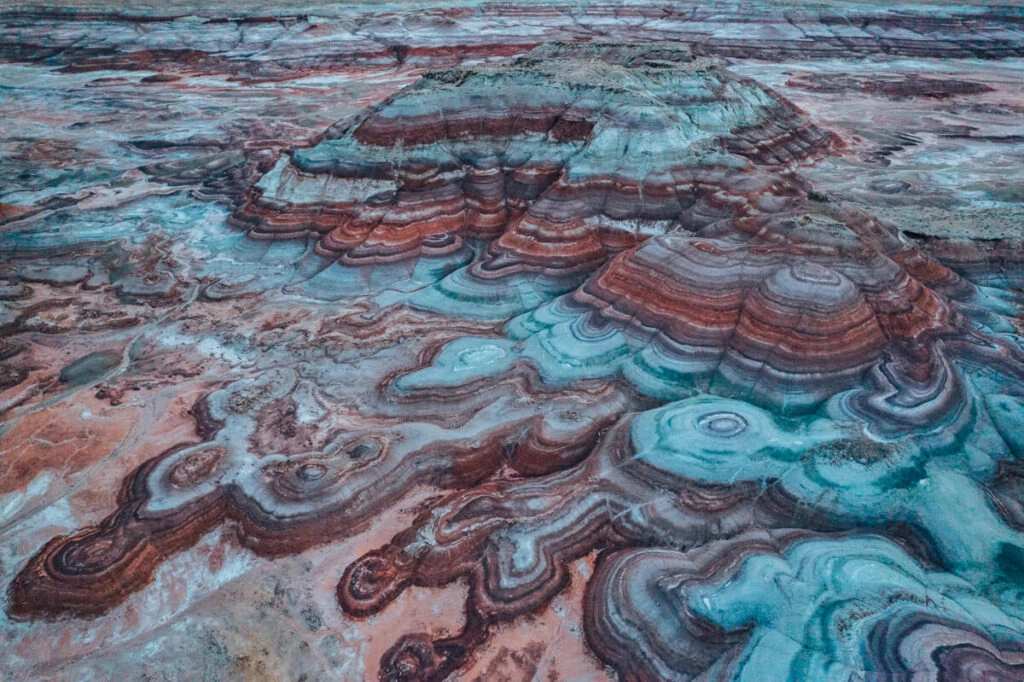 Our favorite spot to see the Bentonite Hills was near the Mars Desert Research Station (MDRS). It makes sense the MDRS is located here, in one of the places that look like Mars in Utah. They chose this location because it is similar to the surface of Mars.
This facility was closed when we visited other than to those coming to conduct practice missions. The roads to it are blocked with 4-wheelers, so please do not trespass on their property.
You can use Google Maps to get you to the Mars research station area, but then continue on the dirt road past the station. You'll come to a large area you can use to park where you are surrounded by the Bentonite Hills. This was where we chose to be for sunset.
One thing to note is that you will need a high clearance vehicle to access this area. The road is 4-wheel drive only, but in dry weather, you could probably do it in 2-wheel drive. Make sure to check the road conditions and do not attempt if it rained recently.
We did not put our Jeep Wrangler into 4-wheel drive for this road, but we also have off-road tires and a lift which made the road easy after some of the other off-road trails we did in Utah.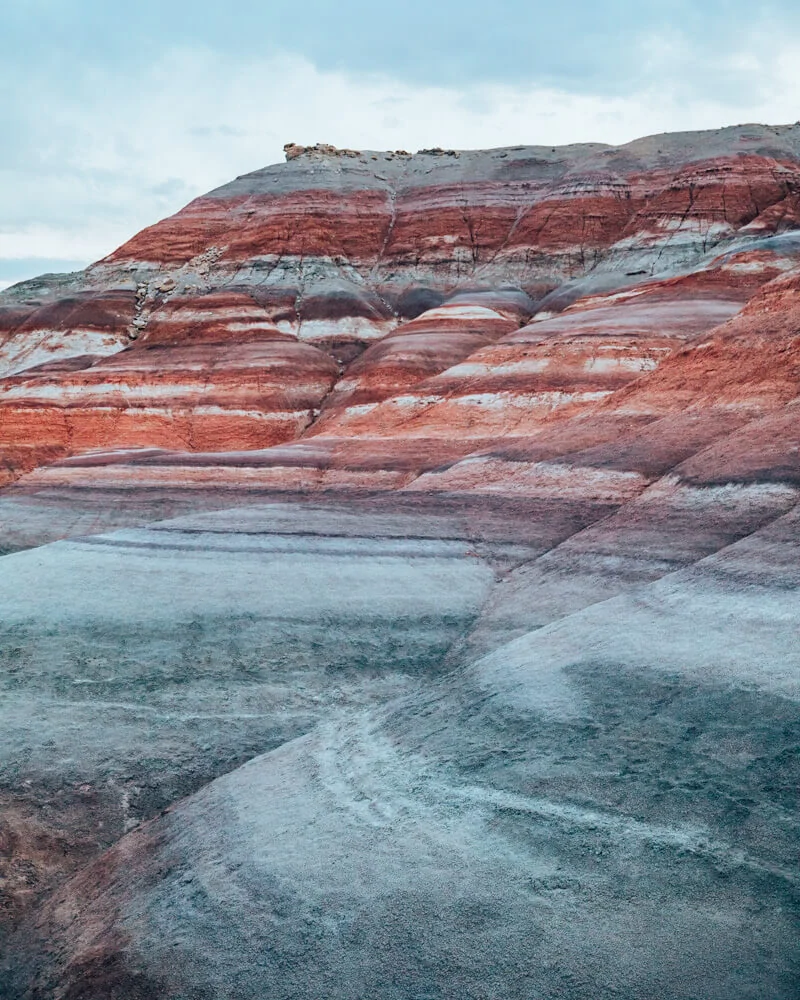 If you are going to attempt the road in a low clearance or regular vehicle, take it slow and turn around if you feel like you get to a part that will be too difficult. You don't want to get stuck in this area as cell phone service was pretty bad on both T-Mobile and Verizon until you got close to UT-24E.
Make sure you leave in enough time to make it back to the road with daylight if you are not comfortable driving the road in the dark. We left after dark, but we also had taken much worse roads in the dark on the same trip.
We knew our Jeep could handle the road easily, and we were comfortable driving the road in the dark. That was something we paid attention to on the way in to make our decision; otherwise, we would have left early to make sure we made it out okay or planned ahead to camp for the night.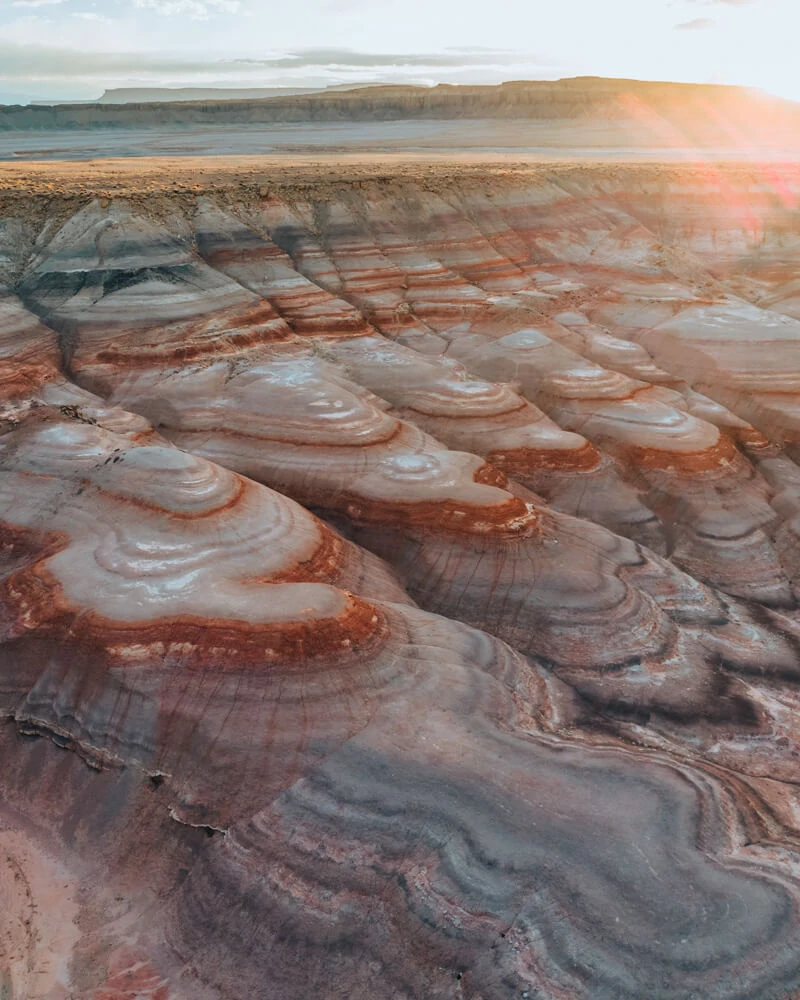 Best Time to See the Rainbow Mountains Utah is Famous For
The best time to visit the Bentonite Hills is during blue hour. You'll want to arrive in the area about an hour or so before sunset.
We got there about 3 hours before sunset to have time to drive around some of the other roads and choose the spot we wanted for sunset. If you choose to come at sunrise, keep in mind that sunrise comes quite early in the summer and there are not many places to stay nearby.
Use an app like Photo Pills to keep track of both golden hour and blue hour. You'll be able to watch the colors in the hills change as the sun rises or sets with the blue and purple hues becoming most prominent during blue hour.
The day we visited the Bentonite Hills, it was overcast, so the colors were pretty visible even during daylight hours. When the hills are in direct sunlight, the colors are muted, and the hills appear more red and brown instead of the variety of colors that come out around sunset.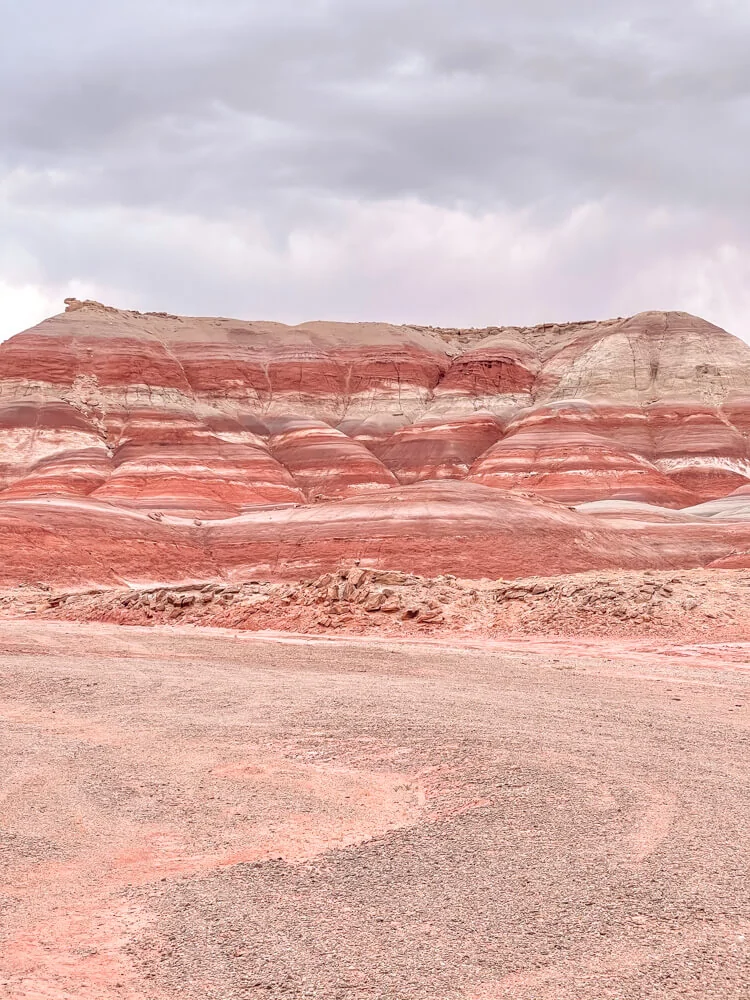 Tips for Visiting Bentonite Hills, Utah
If you decide to visit the Bentonite Hills in Utah, make sure to practice Leave No Trace. There are no facilities in the area, and you need to bring any food or water with you. You also need to pack out what you bring in. We did see a few people camping along the roads here when we visited.
Can You Walk on the Bentonite Hills?
Yes, you can walk on the Bentonite Hills. However, there are no official trails, but there are social trials and washes. Do not walk on undisturbed areas.
Remember to also practice Leave No Trace if you decide to climb up the Bentonite Hills. Only walk on previously disturbed areas and in washes to protect the Bentonite clay.
The colorful hills are made of altered volcanic ash that is easily damaged by foot traffic. Be careful though – some of the previously disturbed areas along the washes down the hills have deep holes going down into the hills.
The surface of the hills has a popcorn-like appearance, and walking over it causes damage that takes years to heal. We stayed along the washes through the hills and followed footpaths up two of the hills to the top. There were several others there as well doing the same.
Make sure to keep your car on the dirt roads and parking areas here. Driving off of these designated paths causes damage to the area.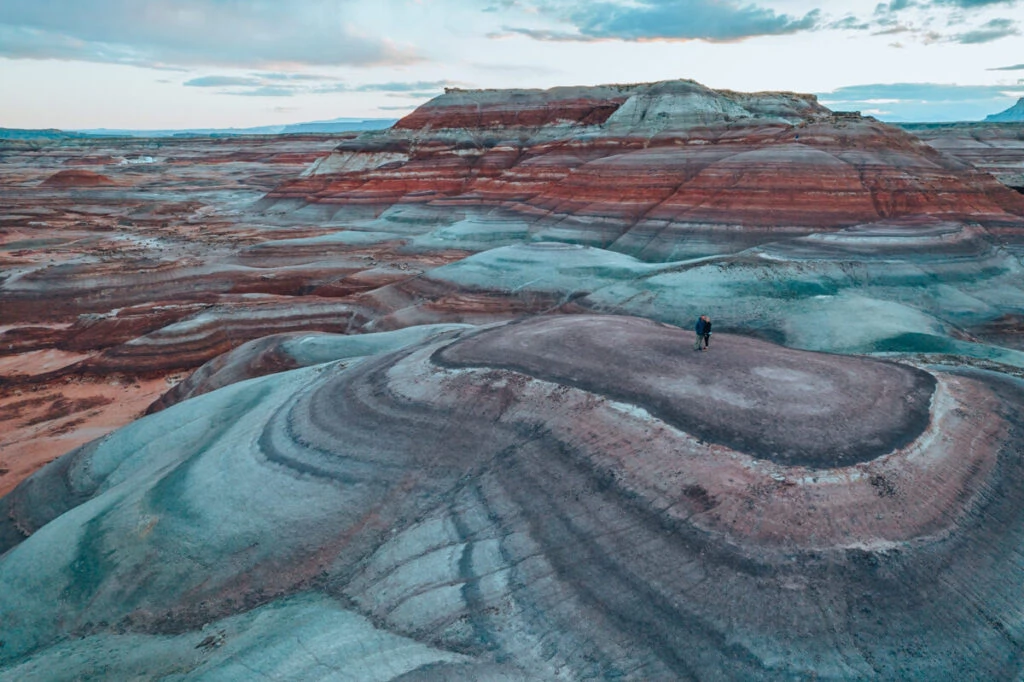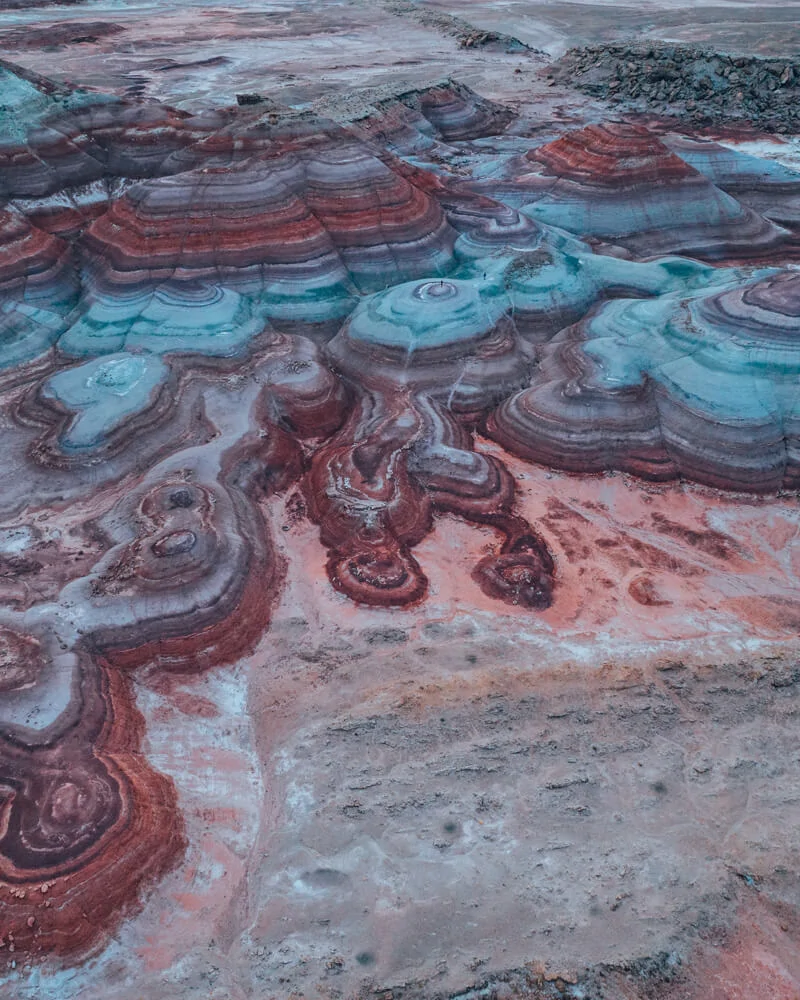 Is Visiting the Bentonite Hills Worth It?
Yes! I've been a few times now both to the Bentonite Hills area near the Mars Desert Research Station as well as the Bentonite Hills location on the map (requires a river crossing).
The Mars Desert Research Station area is worth it even if you don't have a drone. You can still climb up on the hills to get a look down on the smaller hills around you and watch them change colors as the sun rises or sets.
While a drone makes it more fun to get pictures of the area, I would still visit even without it.
Can You Fly a Drone in Bentonite Hills Utah?
Yes, you can fly a drone in Bentonite Hills. However, always check to make sure regulations have not changed before flying your drone.
When we fly our drone, we always do research by looking at the BLM Map and by asking rangers. When we first visited in May of 2021, we called the BLM office and spoke to one of the rangers to make sure it was okay to fly in this spot.
We also used an interactive BLM map for our trip then and on subsequent trips to see which agency was in charge of the land to know where we could fly.
You cannot fly your drone in the National Parks. The Bentonite Hills border Capitol Reef, so you need to make sure you are not flying over land managed by the National Park Service.
This is especially true if you are taking the road to the Temple of the Moon and Temple of the Sun as those are located in the national park.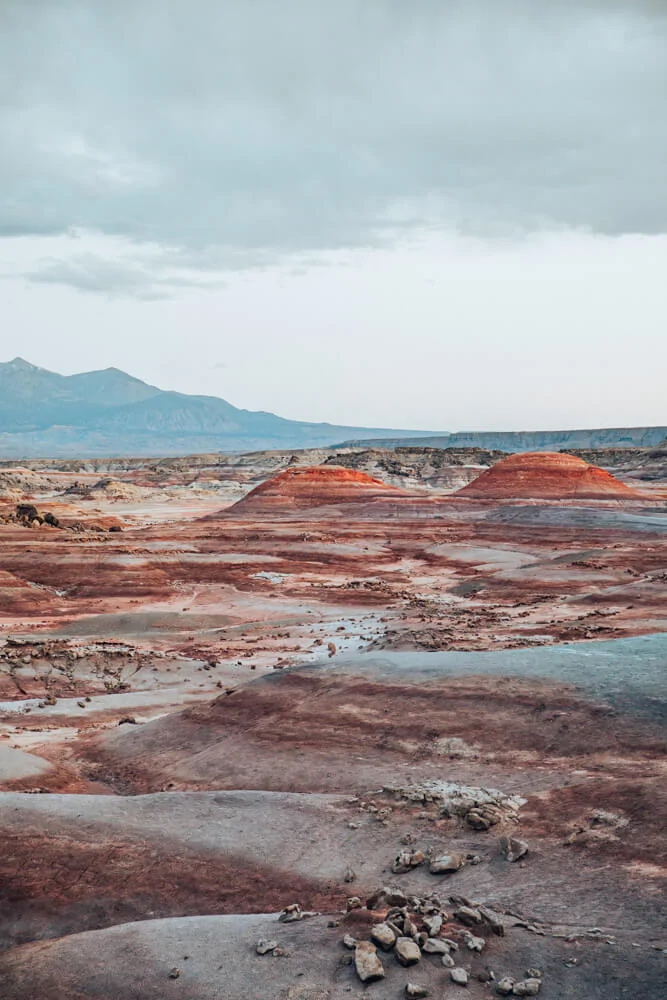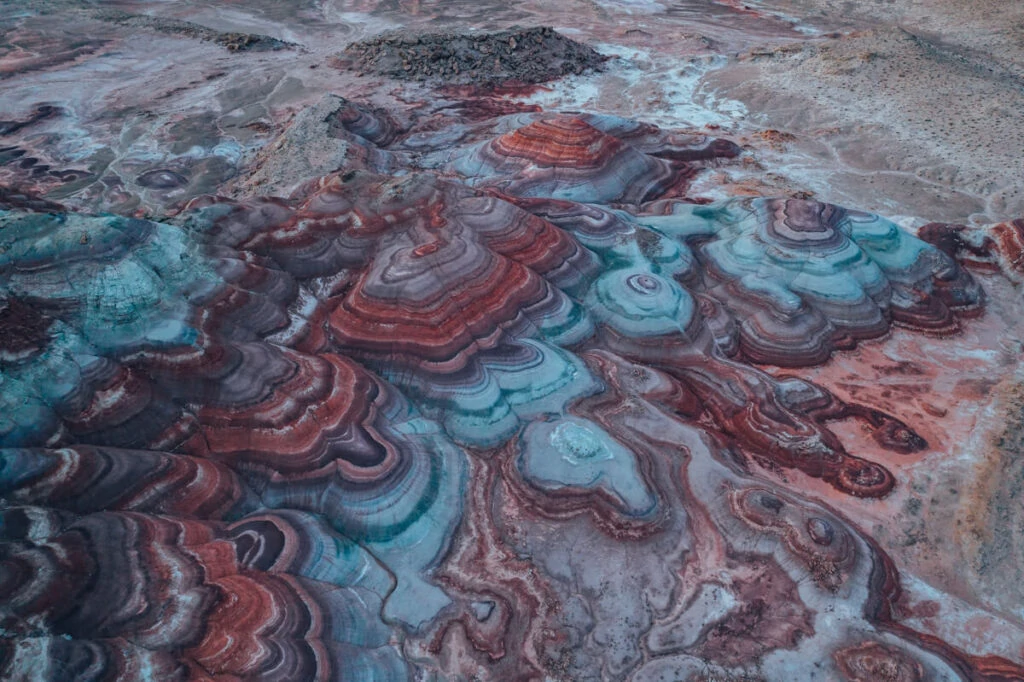 You also cannot fly over Wilderness Areas or Wilderness Study Areas. If you use the BLM interactive map, you can have those areas marked on the map to make sure you are not flying over them.
Other than that, the rangers let us know that you can fly over BLM and state lands that are not State Parks (the parks have their own rules) as long as you don't fly over campsites or disturb others in the area.
If there are others in the area, it is worth checking with them to make sure you do not disturb them. The night we visited the Bentonite Hills, there was another person with his drone there. We just made sure to stay out of each other's way, and we both were able to get the shots we wanted.
How Were the Bentonite Hills Formed?
The Bentonite Hills and their colors were formed from mud, fine sand, silt, and volcanic ash. The Bentonite Clay absorbed water and dried out many times over the years. This creates the popcorn surface you see.
Because it took many years and cycles to form, it is important to preserve the popcorn clay where it still exists.
What Are the Colorful Hills in Utah? Are There More?
The most famous colorful hills in Utah are the Bentonite Hills near the Mars Desert Research Station. However, there are more colorful hills in Utah.
Other areas to see rainbow mountains in Utah include another area of the Bentonite Hills closer to Capitol Reef National Park where you actually see Bentonite Hills marked on the map. These hills require a river crossing that is not always safe to attempt. They are also not as colorful to me.
If you drive back to the Temple of the Sun and Temple of the Moon, you'll also see some of the Bentonite Hills there. Keep in mind that drones are not allowed in national parks.
Another of our favorite areas to see colorful hills in Utah is outside of Kanab along 89 to the west of town. These are just as colorful as the Bentonite Hills but there are wilderness areas here where drones cannot fly. Make sure to consult the rangers and/or the BLM map to know the boundaries.
If you take a southern Utah road trip from St. George to Moab and down to Mexican Hat, you'll see a variety of colorful hills in Utah to stop and enjoy.
Things to Do Near Bentonite Hills, Utah
If you are going to visit the Bentonite Hills, make sure to stop by Capitol Reef National Park. We did not spend long in Capitol Reef, so it would be easy to see both in a day.
Take time to hike out to Hickman Bridge in Capitol Reef to see a natural bridge and one of the most popular hikes in Capitol Reef. It is outside of the fee area, so you can visit without paying to enter the park.
If you have a high clearance 4-wheel drive vehicle, drive out into Cathedral Valley to see the Temple of the Moon, the Temple of the Sun, and Glass Mountain. We actually did this road the first time in a little Kia Soul, and it handled the road like a champ (and even went airborne for a few seconds!). The Jeep Wrangler handled it much better, but you could attempt the road without 4-wheel drive if the area is dry.
Stop by near golden hour for beautiful light, but remember you'll have to drive at least part of the road in the dark if you stay too late. Glass Mountain is better when there is more direct sunlight to really see it sparkle.
Just a 30 minute drive away is Leprechaun Canyon, a beautiful southern Utah slot canyon. It's worth the drive and the fairly easy hike to get to it. Climbing is required in some areas, so make sure to stay on the hiking route if you don't have the skills and gear required for climbing.
You'll also find lots of areas that look like Mars in Utah around Hanksville. Check out the Factory Butte area and take the dirt roads around it to see what you can find.
A day trip out to Goblin Valley State Park is also worth it. These otherworldly formations are fun to wander through and for kids to run around and climb on.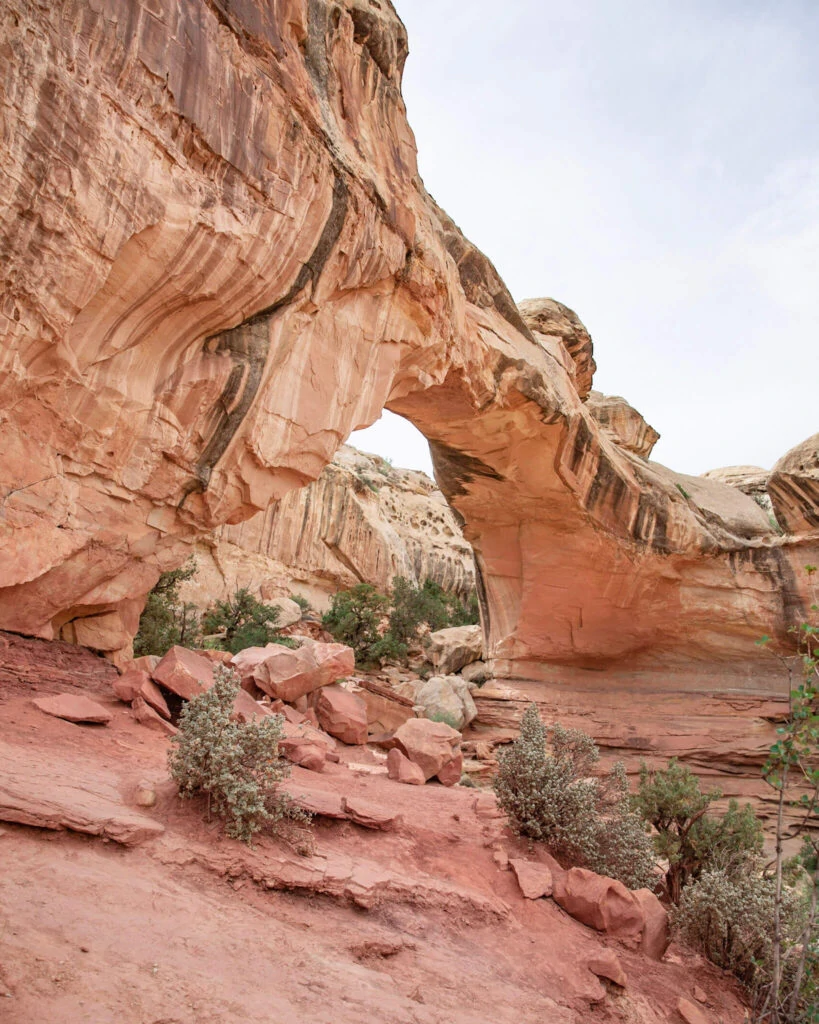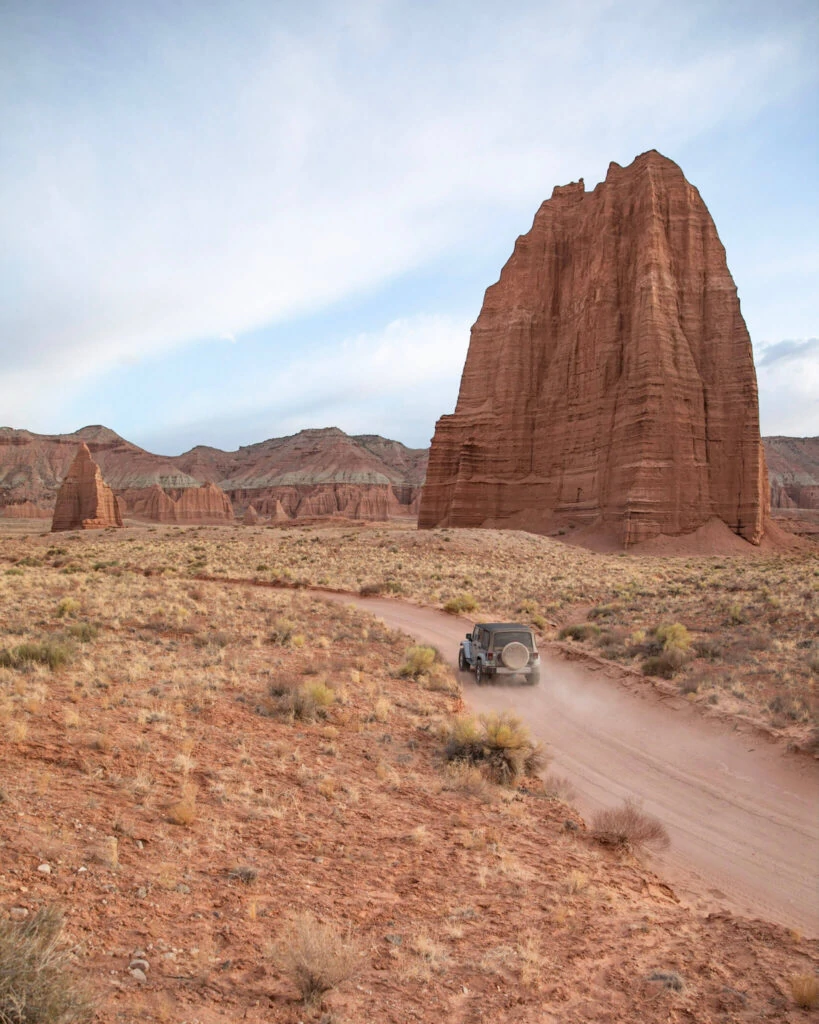 Where to Eat Near the Bentonite Hills
You can also stop in Hanksville or Torrey if you need food and a place to rest. These areas sell out in the summer in advance, so plan ahead for where to stay.
If you go through Hanksville, make sure to eat at Duke's Slickrock Grill. Get the cornbread – you won't regret it! We liked this restaurant so much that we ended up eating there twice. Everything we ate there was delicious, and the staff was wonderful.
In Torrey, we stopped to eat at Slacker's Burger Joint. This area is further away from the Bentonite Hills but a good stopping point if coming to Capitol Reef from the west. The food was good, but the hot fudge milkshake was amazing.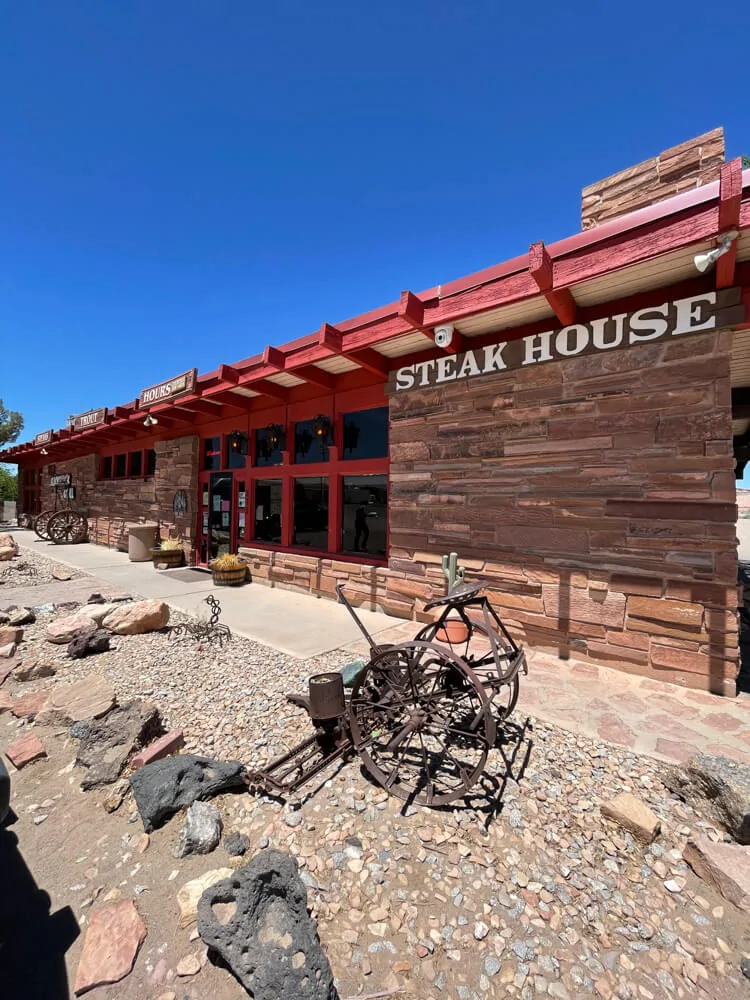 Where to Stay Near the Bentonite Hills
There are limited places to stay close to the Bentonite Hills other than camping on BLM land (make sure you look into where you can camp and where you need permits though). The places nearby fill up fast in the summer months, so we missed out on staying close by because of this.
One of the closest towns to look into is staying in is Hanksville, Utah (Agoda | Booking.com). We stayed at Whispering Sands Motel and found it to be clean and a great location. Check pricing and availability on Agoda here.
Torrey, Utah is another nearby city with a lot more options. Because it is the closest entry point to Capitol Reef, hotels here fill up in advance. You can look for options and availability on Agoda here or on Booking.com here.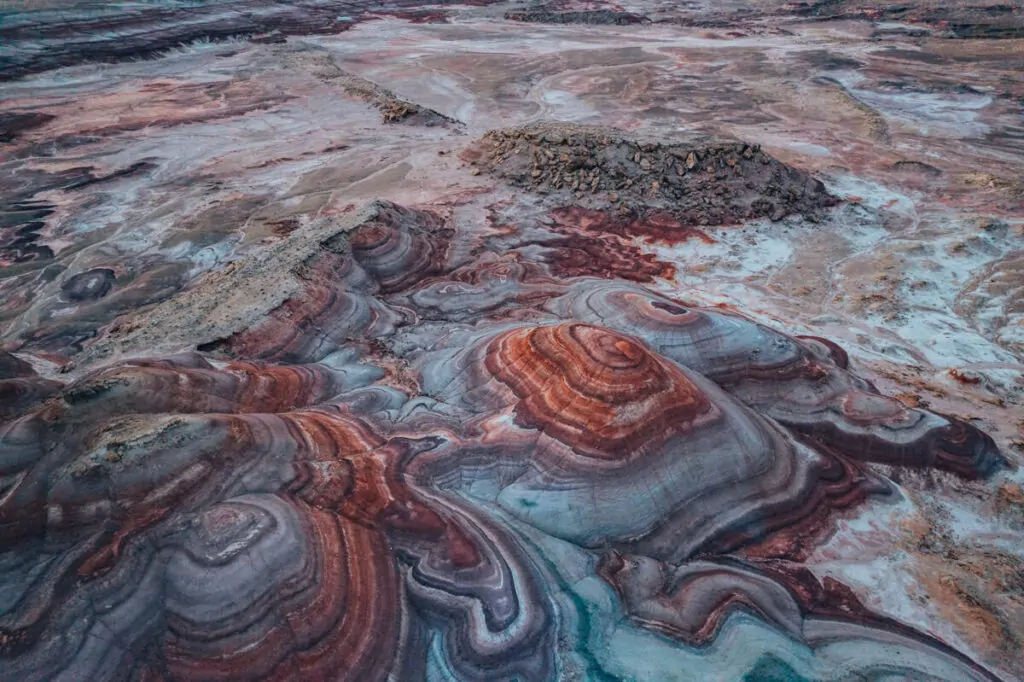 If you are like me and have been looking for the Utah rainbow hills or places that look like Mars in Utah, you are now ready to board your spaceship to Mars. Head to the Bentonite Hills Utah and enjoy blue hour watching the hills come alive with color.